Bakers welcomes the next generation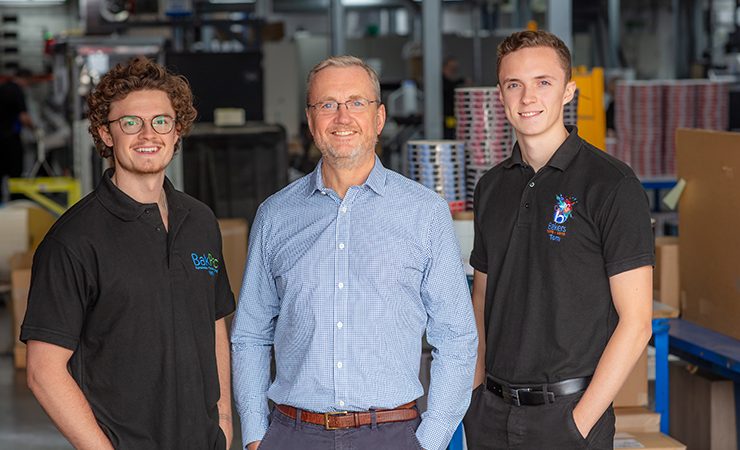 Baker Labels MD Steve Baker (centre) with sons Harry (left) and Tom (right)
Tom Baker has joined both his parents and older brother Harry at Baker Labels in a new role leading the development of Bakers Academy.
Bakers Self Adhesive Labels has remained a family business since it was established in 1973 by Tom's grandparents, Roy and Marian Baker. Steve Baker joined his parents straight from school at the age of 16 and succeeded his father as managing director in 2000. Mandy Baker also joined her husband in the business.
Tom Baker has been appointed Bakers Academy coordinator, and joins his engineer graduate older brother Harry, who started at Baker Labels in 2018. 25-year-old Harry runs operations within BakPac, the new flexible packaging division of Baker Labels.
Steve Baker commented, 'The boys have never been under any pressure to join the business but it feels really good that they are both here. I genuinely feel that we can go from strength to strength so the Bakers of the future is an exciting prospect and majorly stronger having Harry and Tom on board.'
He continued, 'Although Tom has only been here a couple of months, he has already made a massive difference to the future workings of the business. We have been talking about the idea of a training academy for Bakers for several years but Tom has been able to take that idea and get things rolling. This will now develop at a fast pace over the next few months, which will have a real positive effect on everyone in the company, not just new recruits, to enable us to have a far more knowledgeable, flexible workforce which is vital to our ongoing success.'
Tom Baker said, 'It is my job to build structured content that will help our employees to train and better themselves. With my own technical knowledge being low, I understand the necessity of extracting the information from Bakers' experienced and skilled staff. We are hoping for the Academy to use our in-house expertise combined with top-class external sessions to improve the training and development across all parts of the company.
'As the Academy is still in an early stage it is changing and progressing every single day. This makes the development challenging but rewarding; each week we are making the path clearer for how to tackle this beast of a project. I'm excited to see how it will impact Bakers and its employees in the future.
'The Academy is important to me because it is the first real project I am taking on at Bakers and has the potential to have a big impact on all parts of the business. For Bakers, as a business, the Academy can make us more aligned and adaptable, allowing us to improve our standards and take advantage of new opportunities more quickly. For Bakers' employees, the Academy could support their progress both in work and personal development.'