Labelexpo plans 'best and safest show ever'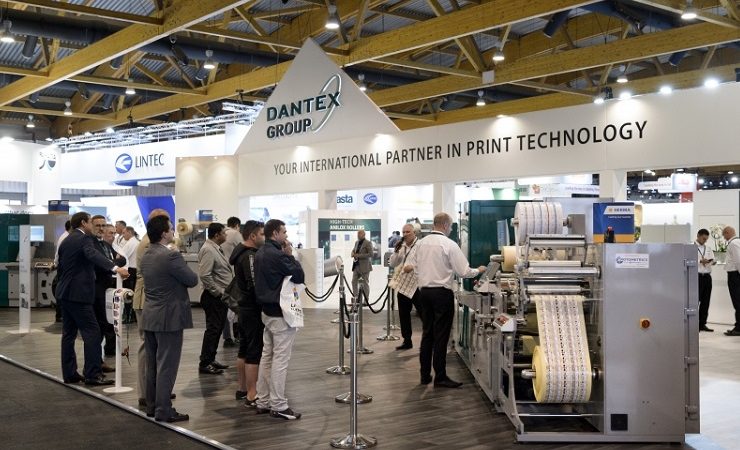 The Dantex stand at Labelexpo Europe 2019
Tarsus Group, the organiser of Labelexpo Global Series events and exhibitions, is planning to deliver its most ambitious show to date in a year from now, when the doors open for Labelexpo Europe 2021.
Like the rest of the print and packaging exhibition industry, Labelexpo events around the world have been impacted by the coronavirus pandemic that has led to widespread postponements and cancellations. Many industry events are now rescheduled for the first half of 2021, including Labelexpo Americas in March in Rosemont, Illinois. Dedicated to the label and package printing market in the Americas, this is a sister show to the far larger and more international flagship Labelexpo Europe, whose next edition is planned to run 21-24 September next year in Brussels, Belgium.
Labelexpo Europe 2021 will, 'bring the future of the industry to life,' according to Labelexpo Global Series managing director Lisa Milburn.
'While the label and package printing industry has shown incredible ingenuity during the Covid-19 pandemic, there is simply no substitute for the face-to-face contact that only a unique trade show like Labelexpo can bring. Labelexpo Europe 2021 promises to showcase the very latest advancements in label and package printing. With an abundance of working machinery showing the latest technology, design solutions and feature areas, Labelexpo will bring the future of the industry to life.
'The industry is expecting us to make this the best, and the safest, show ever, and we will deliver. The health and safety of our exhibitors and visitors is our utmost priority, and intense work is currently going on behind the scenes to make sure this is achieved.'
Ms Milburn continued, 'Firstly, Brussels Expo has invested in a world-leading air filtration and recirculation system, which means the quality of air inside the halls is the same as the air quality outside.'
The organising team behind Labelexpo Europe 2021 is also already engaged in selecting contractors, cleaning and catering suppliers who will implement the highest standards of safety during the show itself, as well as during build-up and breakdown. Tarsus has also published a document outlining the steps being taken to safely host Labelexpo Europe 2021. This includes distancing and crowd density guidelines, an updated floor plan with wider aisles, cleaning, on-site signage, and additional staff. Download the document here.
Chris Ellison, managing director, OPM Labels & Packaging Group, and president of European label federation Finat, said, 'There is only so much you can do and learn online. What I am really missing is the industry buzz you get from the world's leading label show, not just seeing first hand new and exciting technology developments from the world's leading suppliers that spark inspiration, but also meeting with old friends and making new contacts in a safe environment.'
Sarah Harriman, marketing and communications manager at Pulse Roll Label Products, added, 'So much has changed around the world since we were in Brussels last year. However, with 12 months still to go, we are hopeful and optimistic about plans to bring the label and package printing industry safely back together for Labelexpo Europe 2021.
'We expect that things may need to be somewhat different for both exhibitors and visitors, but we welcome, and look forward to, the opportunity to meet our customers, potential customers, partners and industry friends in person again next September for the world's greatest label show.'
Uffe Nielsen, CEO at Grafisk Maskinfabrik, commented, 'The last few months have resulted in major changes to consumer behaviour, such as increased eating at home, e-commerce and so on. This in turn has led to bigger demand for labels. With trends set to continue, the future of GM, as well as the wider label market, is looking extremely bright. For that to happen though, it's essential that we have the opportunity to come together with the industry at a live trade show experience.
'I can't stress enough how important Labelexpo Europe 2021 will be, as an unrivalled global platform to share the knowledge, innovation and technology that's been key to keeping the industry going in these unprecedented times. All suppliers and manufacturers should get involved in Labelexpo Europe 2021 and keep the industry moving forwards.'
Filip Weymans, vice president, marketing communications at Xeikon, concluded, 'No other show has the same dynamism and energy, that cultivates connections which results in innovation and business. I have said before, Labelexpo Europe is the centre of gravity for the labels industry and we are looking forward to engaging with the industry again.'
The first Virtual Label Summit takes place next week.