Partners demo digital carton creation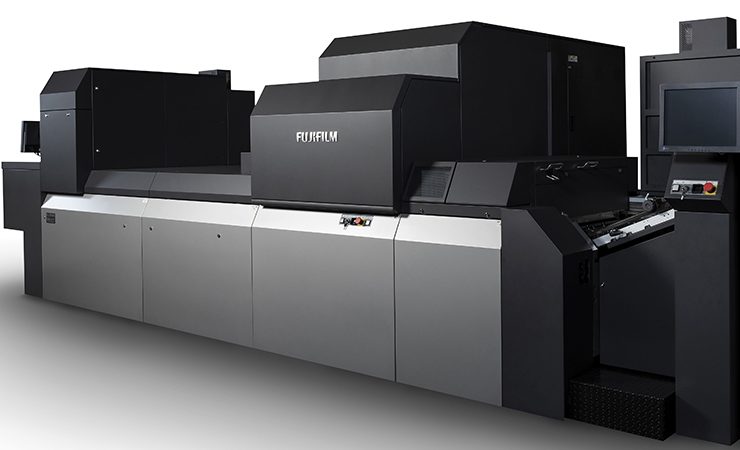 The Fujifilm J Press 750S
Fujifilm, Highcon and Harris & Bruno are to use their respective technologies to highlight the creation of a bespoke folding carton package.
The virtual event on 24 September will see the carton printed on a Fujifilm J Press 750S in Brussels, coated by Harris & Bruno Europe in Germany, and digitally cut and creased by Highcon in Israel. Attendees will follow this in real-time, and then have the opportunity to request a finished piece to be sent out to them after the event. A long-time customer of both Fujifilm and Highcon will provide further context around the added value of digital printing and finishing.
The three companies noted that as the market for commodity print comes under increasing pressure, being able to demonstrate an ability to add real value is ever-more important. Within this, every stage of the print production process has a part to play.
Mark Stephenson, product manager, digital printing and press systems, Fujifilm Graphic Systems Europe, commented, 'The ongoing situation with the Covid-19 pandemic has made product demonstrations a huge challenge for our customers in recent months. We're used to welcoming hundreds of prospective customers to our Advanced Print Technology Centre in Brussels each year – and of course demonstrating our technology at industry exhibitions and events.
'In light of the current situation, we've decided to work with trusted partners to demonstrate how value can be added at each stage of the print production process, through a live, multi-location online event. We're immensely proud of the quality produced by our J Press 750S – but the finishing process has an equally important role to play.'
Yaron Eshel, in charge of application and business development at Highcon, said, 'Added-value, creative print has huge growth potential in the coming years – and it needs a digital finishing solution to match. We look forward to demonstrating the role that we are playing in this creative, digital future.'
Joe Rodriguez, EMEA technical director at Harris & Bruno, added, 'Quality print deserves quality finishing, and we're looking forward to showing how our processes can add real value.'