Delga Press installs Highcon Euclid III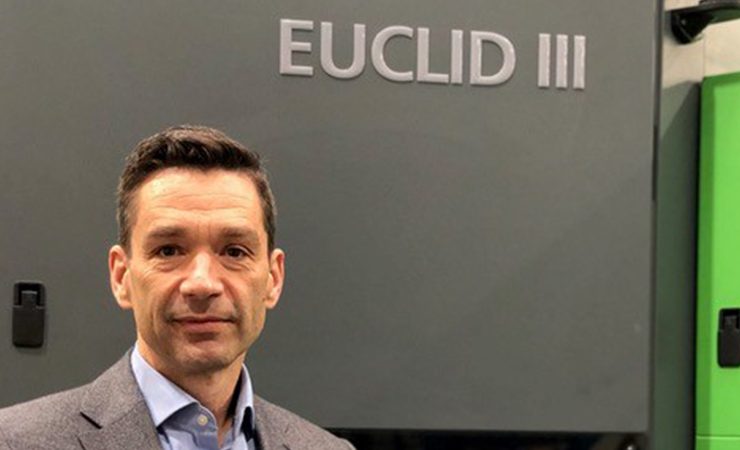 Delga Group managing director Ian Conetta with the company's Highcon Euclid III
Medway, UK-based print and packaging specialist Delga Press has installed a Highcon Euclid III digital laser cutting and creasing machine.
Delga Press has more than 60 years of experience in the print and packaging industry. Delga Press is part of Delga Group, which consists of four printing and packaging manufacturers based in Kent that includes the recently-launched Delga Labels, CSP and Scarbutts Printers.
The Highcon Euclid III is a digital cutting and creasing machine that allows on-demand production, eliminating tooling and streamlining setup. Creasing is based on Highcon's digital adhesive rule technology (DART), with cutting handled by precise CO2 lasers and optics. The Highcon Euclid III can process up to 1500 sheets an hour with a maximum format size of 760 x 1060mm (portrait), and handle microflute N+F+G up to 1.2mm, and cartonboard and label substrates from 200-600 micron.
The Highcon installation follows on from investment in an HP Indigo 12000 HD digital press at Delga Press. Installing the new Highcon means the entire Delga Group can now offer both high quality print and precise cutting and creasing for all packaging options.
Moreover, the new machine gives Delga Press the capability to intricately cut and crease high definition packaging designs, adding yet another powerful and highly sought-after capability to its offer. Upgrading to a digital machine also means less waste and a lower cost in producing both short and long run projects, increasing the valued added services available to all Delga Press customers.
Delga Group managing director Ian Conetta explained, 'At Delga we have always put our customers first and continually assess the market to identify areas that we can provide further solutions to meet and excel their requirements. The installation of this intelligent, cutting and creasing service offering will only help us further support our customers and take the Delga Group to a new level within the industry.'