Sample packs reiterate Bakers' intent in flexible packaging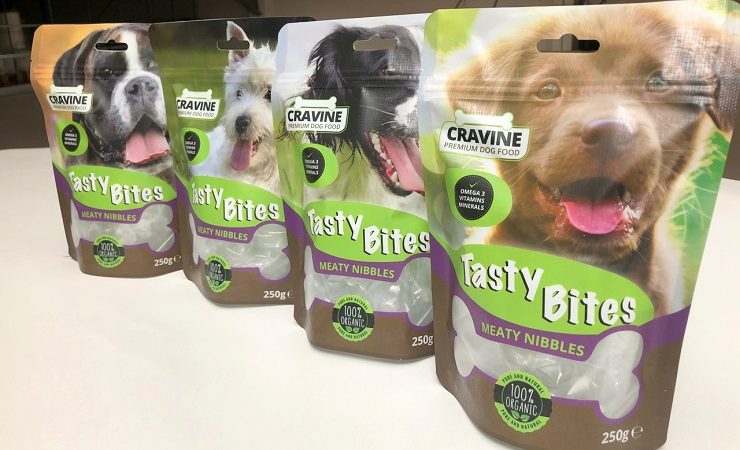 BakPac sample packs of unbranded stand-up pouches that emphasise the diversity in the markets that flexible packaging is used in have been created, and are now being distributed
Baker Labels has created a set of sample packs to show the capability of its new digital flexible packaging offer for trade customers.
The company has created BakPac as the latest growth step in its 45-year heritage as a trade supplier to the label printing industry. BakPac launched following a £2.5m investment in equipment and factory renovations at Baker Labels. This included installation of an HP Indigo 20000 digital press, Enprom thermal laminating machine, and Karlville KS-DSUP-400-GSW pouch making line.
These technologies have been used to produced sample packs of unbranded stand-up pouches that emphasise the diversity in the markets that flexible packaging is used in. Using a selection of base materials in silver (METPET/PE), white (PET/EEVOH – white) and clear (PET/EEVOH – clear), and various thermally laminated finishes including soft-touch, matte, gloss, linen and leather. Options such as zippers, tear notches and euro slots are available, plus the option to manufacture multi-web pouches so different materials and finishes can be used on the face, reverse and gusset.
In explaining the creation of BakPac, the company stated, 'Digitally printed flexible packaging may only represent a tiny percentage of the flexible packaging market but in the growing digital climate, it is likely to increase.
'As a trade supplier we can help ensure conventional flexible packaging manufacturers don't miss the opportunity to maximise profits on all enquiries from customers looking for the advantages of digitally printed flexible packaging such as reduced waste and low minimum order quantities.'
The company added, 'The attraction of short runs and variability that digital flexible packaging offers is perfect for seasonal specials, trials and many small to medium businesses. By working with BakPac, our customers that are currently printing conventionally can offer this to their customers instead of them moving to another supplier. The cost threshold of digital vs. traditional is decreasing so BakPac will not be suitable for end users requiring higher quantities but while they are growing, we're perfectly positioned to allow conventional manufacturers offer what they need. When they scale up, they'll be able to do it without a break in the sales relationship.
'For current label manufacturers we aim to become their flexible packaging production arm, allowing them to provide a whole new service to their customers and giving them an opportunity to grow within the flexible packaging market. We can support them by sharing our knowledge of the flexible packaging industry via online training workshops and selling tools such as unbranded sample packs and artwork templates.'
On the new sample packs, 'the digitally printed pouches are designed to emphasise our capability and quality, both to reassure conventional packaging producers and inspire label manufacturers with what they could offer,' stated Baker Labels.
BakPac is led by Phil Smith, general manager, as well as Bakers Labels managing director and industry figurehead Steve Baker. BakPac is one part of the Baker Labels business, which also includes: Baker Materials, a stockist and supplier of over 450 self-adhesive materials to the label printing industry; Sportstiks, producing athlete identification for sporting events; and the trade self-adhesive label printing arm, Baker Labels.
Read more about BakPac here
Baker Labels is an active member of the Digital Labels & Packaging Industry Group, with Steve Baker to speak at this year's Digital Print for Brand Success conference in London on 19 November