Omet anticipates hybrid growth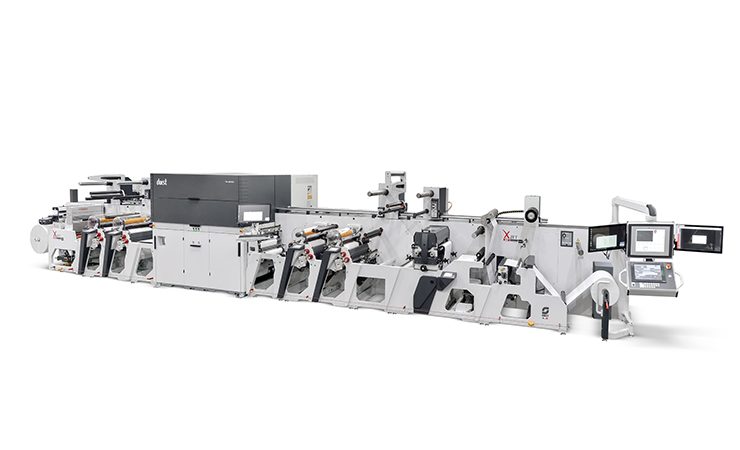 'We expect 2020 being the year of 'the pivot of hybrid' and faster growth of installations in 2021.'
Omet has stated that it sees 2020 as being the year of 'the pivot of hybrid', with faster growth of installations in 2021.
Omet's hybrid printing offer, XJet, has recently been improved, with the Durst-driven digital-flexo system now offering a faster speed, wider with and higher print quality.
This includes a top speed of up to 100m/min, digital printing widths of 330mm, 420mm and 510 mm, and the introduction of an automatic nozzle compensation system. In addition, the upgraded XJet affords all of this is a more compact, user-friendly and integrated system, with fully automatic register and control.
Moreover, the combination of Omet's flexo expertise and Durst's specialist knowhow in inkjet printing facilitates production immediacy, variable data printing, personalisation and high uptime, along with new high performance features such as inline integration of finishing units and converting units, from cold foil, hot foil, silk screen and varnish, to multi-layer, die-cutting and slitting. Omet's flexo stations also enable primers and special varnish application, Pantone, or metallised colour printing.
Omet sales director Marco Calcagni commented, 'The XJet is requested by label companies that see benefits in a total hybrid solution, being able to provide an extended range of new opportunities and widening significantly their product portfolio. We also see significant interest coming from digital printers who want to optimise their production process: printing, finishing and converting inline with focus on single pass production, by using only one machine instead of two or three being used currently.'
Omet hybrid platforms are also now capable of producing shrink label printing and many other special applications along with the printing of every kind of self-adhesive labels.
Mr Calcagni continued, 'We are working on further developments aiming at expanding the range of final applications to satisfy the demands of our globally respected customers, who themselves are pioneers in innovations.
'We expect 2020 being the year of 'the pivot of hybrid' and faster growth of installations in 2021.'
Read more about hybrid printing in the January/February issue of Digital Labels & Packaging, which can be read online here; register here to receive future issues of the magazine for free