Cartes establishes US subsidiary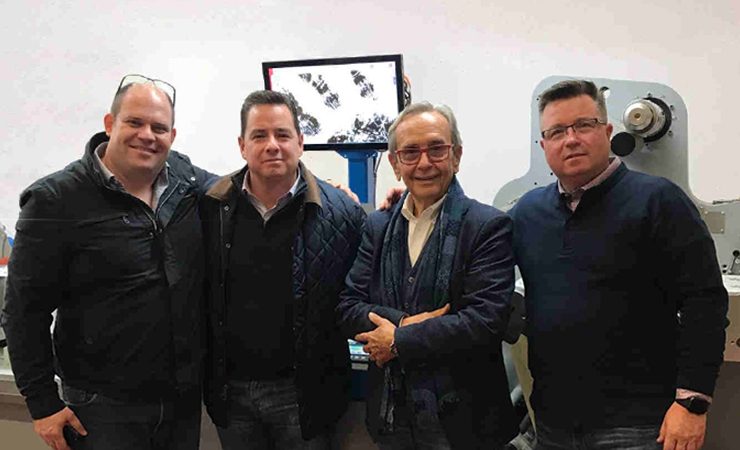 Pictured (from left): Cartes sales director Virgilio Micale, DGM president Michael Debard, Cartes chairman Mario Lodi, and John Paul Debard, DGM vice president
Italian finishing equipment manufacturer Cartes has established a subsidiary in North America and opened a new facility in the US.
Located in Red Bank, New Jersey, Cartes USA, Inc. gives the company the ability to offer its products with the very same high level of service and support in North America that the company offers around the world, in over 90 countries.
Cartes USA started operations on 1 January, 2020 and is a collaboration with partner company Diversified Graphic Machinery (DGM).
Cartes chairman Mario Lodi said, 'By affiliating with DGM, Cartes USA is able to hit the ground running in North America by providing service, spare parts and technical support to our existing and future North American customers.
'Cartes machines are built on the core principles of reliability, technology, innovation, and customer satisfaction. Along with DGM, Cartes USA will be able to deliver on promises, which are fundamental to our goal of being a credible and reliable partner for your business.'
Cartes USA sales director Virgilio Micale commented, 'Cartes recognises the importance of the North American label manufacturing market. I look forward to meeting with companies all across America to understand their individual product requirements. I want to work together with customers to study their projects and offer new cost savings solutions that utilise our technology.
He continued, 'We introduced our laser die-cutting technology to the market over 21 years ago and we have installed over 300 plus machines in 45 different countries around the world. We have pioneered laser technology for die-cutting of self-adhesive labels and we are very proud to be the innovators of this technology.'
Michael DeBard, DGM president, added, 'It's wonderful to partner with a company like Cartes, which is committed to continually investing the required resources to advance the technology for embellished labels to the next level.
'We look forward to working together with Cartes USA as together we can bring our clients the most innovative, cost effective label machinery solutions that are backed by a company that is willing and capable to stand behind it.'