Bristol Labels takes next step in digital journey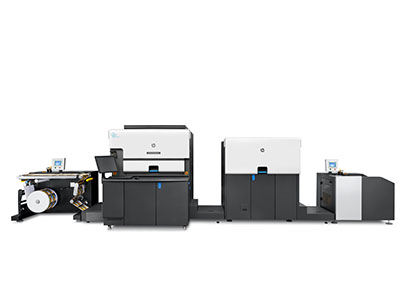 The two 6900 models are part of an impressive digital print one up
Recently appointed managing director Ben Stokes and his team at Bristol Labels have welcomed an HP Indigo 6900 digital press; an investment, which Mr Stokes said is the key part to the company's future growth. The 6900, which replaces an Epson SurePress L-4033AW inkjet label press, includes new HP Indigo ElectroInk Silver and an inline priming unit.
The company first entered digital in 2015. Mr Stokes explained, 'When we got the Epson, it was exactly what we needed, and it has done a fantastic job, but our customer base is growing and we hit capacity, so we needed to invest again.' He continued, 'After doing my homework on the digital presses available, it didn't take long before I knew HP suited our business the best.'
'The new press will help us grow instantly due to the speed. We needed to increase speed to enable us to be more cost effective, reduce lead times and have the capacity to grow,' he said.
An existing GM DC330 finishing unit will be handling the output from the 6900, running double shifts to keep up. Mr Stokes said, 'We will be double shifting the GM instead of double shifting on the flexo. This is a natural change in our business.'
The label printing company has also undergone a completely rebrand and launched a new website to support the move forward. 'I always felt our previous website lacked energy, and that Bristol Labels wasn't known as a brand. If we work with and help brands then I feel we should be a well-known and established brand ourselves. I don't want to be looked at as just another label printer,' concluded Mr Stokes.