Graphium installed at Empire in the US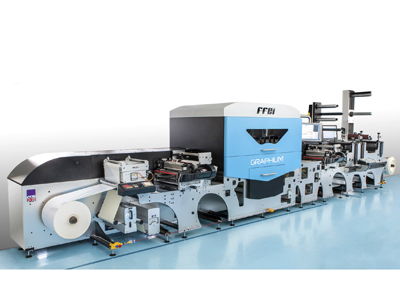 The Graphium press is distributed by Fujifilm in the US
Wisconsin-based Empire Screen Printing has invested in a Graphium UV  inkjet press to improve labels, packaging and speciality print capabilities.
Though the company's roots are in screen printing, it has since expanded into flexographic and digital printing, with the Graphium being its latest installation. 
'The Graphium opens up a different digital output method for us, and additional revenues,' said Jennifer Schloesser, creative director. 'We are now able to enter new markets we previously were not able to consider.'
'The print quality extends our screen printing capabilities when it comes to printing four colour process, fine lines and perfect register jobs,' added John Freismuth, president. 'It is going to change the way print goes to market. I've heard many colleagues say 'digital isn't fast enough' and 'digital isn't outdoor-durable,' but with Graphium, you get both.' 
The company is one of the top print service providers for the polycarbonate market. Mr Freismuth continued, 'We haven't found any other press that's cost-effective and provides durable labels for outputting solid colour polycarbonate. We are now producing decorative polycarb elements that are directly applied to commercial grade and residential appliances, along with exercise equipment. Many of our jobs require a lot of white ink for the opacity, and the Graphium allows us to do this very well.' 
Complex artwork regularly arrives at Empire Screen Printing and the traditional screen-printing process wasn't able to handle the requirements demanded of clients. 
'The Graphium allows us to work successfully  with designers and companies looking for perfect registration,' concluded Mr Freismuth. 'Screen printing hasn't been able to offer that, and with the introduction of digital, we can manage complex files at speeds faster than ever.'