Domino and MPS showcase hybrid technology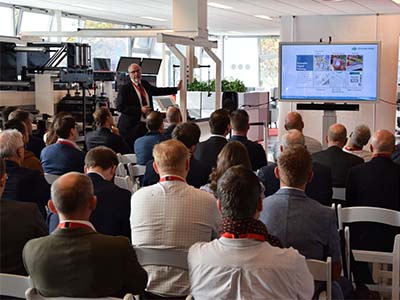 Shane Dewar, director digital printing solutions Europe, introducing Domino to the attendees 
The MPS Symjet hybrid press was in focus on 17 and 18 October when MPS, together with Domino, welcomed guests to an open house event at its Technology & Expertise Centre in Arnhem, the Netherlands. 
Over the two days, visitors from Belgium, France, Germany, Latvia, the Netherlands, Russia, Spain and the United Kingdom attended the event to understand the capabilities of the press, which integrates a Domino N610i digital inkjet engine. 
Visitors heard about the trends and developments in the global pressure-sensitive and sleeve label markets, and learnt about the cost advantages of hybrid inkjet label printing in a presentation from Sean Smyth. There were also live demonstrations of the MPS EF Symjet printing multiple SKUs to highlight the fast job and media changes that can be obtained using digital technology. 
Comments from attendees included, 'I found the day extremely useful. It has ticked all the boxes that we expected. The presentations were interesting, and today has served to confirm our original thoughts about hybrid technology. We have been very impressed with what we have seen, and I think it will fit into the future of our business.' Another said, 'The presentation about the cost benefits of using hybrid technology was particularly informative, as was the live interview with Gregg Temple from Meyers in the US, who explained how he researched the hybrid market and the successful results his business has achieved since investing in the MPS/Domino combination.' 
Shane Dewar, Domino's director for digital printing solutions Europe, said, 'These events, which Domino co-hosted with MPS, have been extremely successful and well-received. We have been delighted with the attendance and high levels of interest shown in hybrid and shrink sleeve printing over both days.'