Warneke shows off new inkjet capabilities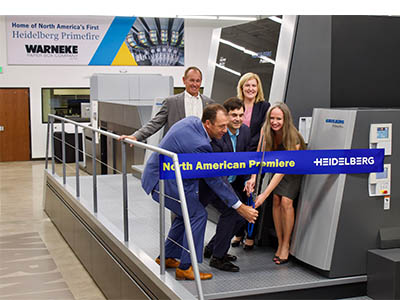 (L–R) Steve Huppert, Warneke COO, Felix Müller, Heidelberg, and Stacey Warneke cut the ribbon, with Dan Maurer and Montserrat Peidro-Insa, Heidelberg, looking on
Packaging print shop Warneke Paper Box invited more than 60 visitors from the USA, Canada and Mexico for an open house in October to showcase its new Primefire 106 press. The B1 format digital printing system – the first in the US – was delivered by Heidelberg to the company's Denver facility in July. 
'The print quality of the Primefire 106 is unlike anything else I've seen, and satisfies all my criteria for a digital platform,' said president and CEO Stacy Warneke. Vice president and COO Steve Huppert added, 'We can also migrate everything we've printed so far on our Heidelberg offset presses to the Primefire 106. The new digital business models, customisations, and personalisations enable us to generate added value for our customers, and we expect that the Primefire will account for 25% of our sales volume in the future.'
Heidelberg reports that demand for the inkjet press is especially high in the American, European, and Chinese markets. Three European customers are currently beta testing the press, which was launched at drupa 2016.
'I've been evaluating digital printing presses for many years, and up until now, no machine has even come close to meeting all of the necessary key requirements to be considered a viable production solution in folding carton packaging,' said Trish Alberico of General Converting in Bolingbrook, Illinois. 'In order to justify adding a digital press, the press must fit within our current production stream and be capable of supporting the next challenge a customer may bring. After seeing the Primefire, it is obvious that Heidelberg engineered this press to change the game.'