OPINION: Time to celebrate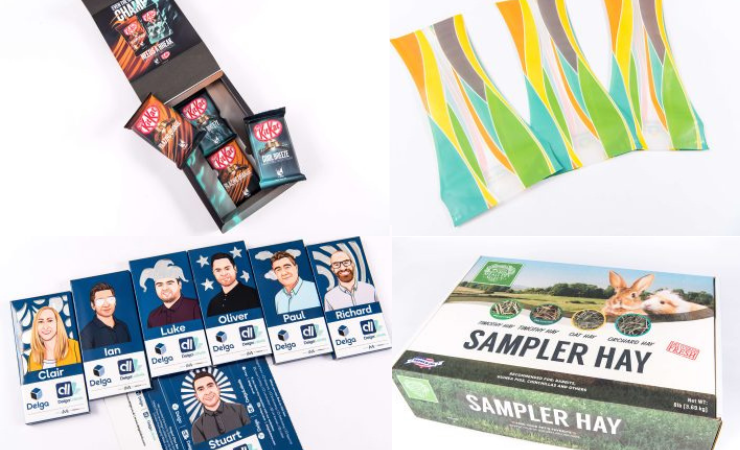 Four example entries submitted and nominated in the Digital Labels & Packaging Awards 2023; (clockwise, from top left) ProAmpac Grimsby, SunDance, Independent II and Delga Press
In his editor's comment piece from issue 3 (May/June) 2023, editor David Pittman reflects on this year's Digital Labels & Packaging Awards and what they mean to and for the industry.
It is with great pride that I introduce you to the nominees in this year's Digital Labels & Packaging Awards.
In only the second edition of this competition, we've already added a further four categories to ensure the awards represent as much of the digital print for packaging supply chain as possible. Moreover, this year's awards has seen even more companies submit a greater number of entries. The calibre of entries has been high, whilst the profile of companies entering and nominated shows just how important these awards are to the industry and myself.
Working day-to-day with so many of you means I am acutely aware of the opportunities, and the challenges, for all involved in labels and packaging. These awards provide the perfect opportunity to take stock, reflect and celebrate all that the industry has done and continues to do.
The awards nominees also go to highlight the changing nature of the industry. More boxes, cartons and pouches were submitted this year. Is this a reflection of the penetration of digital? I suspect so, as more and more are switching on to and adopting inkjet and toner-based processes to print and convert sheets and reels into saleable products. For brands and retailers, they too are seeing the strategic value in digital as a production tool enabling them to address the changing needs of consumers whilst increasing their revenue potential.
Fujifilm, Screen Europe and HP Indigo are the obvious names seeking to industrialise digital flexible packaging, with a new breed of productive equipment designed to print films at faster speeds and in wider widths. Will these help tip the balance in digital's favour? Only time will tell but with the first adopters now getting their hands on these machines, I only expect to see more digital packaging entering the market.
The result will likely mean even more competition in next year's Digital Labels & Packaging Awards, but that can only be a good thing as the industry grows and establishes itself. For this year though, I wish the best of luck to all those nominated and I look forward to seeing you at the ceremony on 29 June to find out who this year's winners are.
This editorial leader was first published in issue 3 (May/June) 2023 of Digital Labels & Packaging, which can now be read online here; register here to receive future issues of the magazine