Digital Labels & Packaging Awards finalists revealed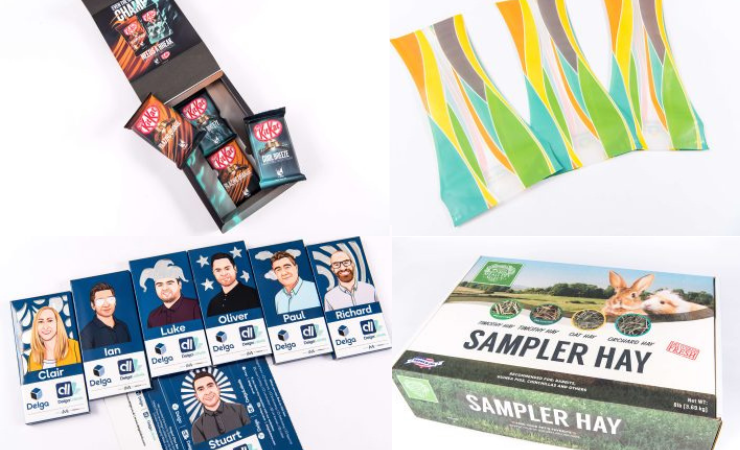 Four example entries submitted and nominated in the Digital Labels & Packaging Awards 2023; (clockwise, from top left) ProAmpac Grimsby, SunDance, Independent II and Delga Press
The finalists across the 14 categories of the 2023 Digital Labels & Packaging Awards have been announced, with nominees selected from a greater number of entries submitted by more companies.
The awards programme was launched last year to provide a means for all in the digital print for packaging supply chain to celebrate the great and the good using inkjet and toner-based technologies to print and convert sheets and reels into high-value and saleable labels, sleeves, pouches, cartons, corrugated boxes and more. Entries were again submitted from all around the world, showcasing the truly global nature of the digital industry.
The categories and finalists are as follows:
Excellence with inkjet – All4Labels UK Leeds, Limpet Labels, Reel Appeal, The Label Makers
Excellence with toner – Amberley Labels, Label Apeel, The Label Makers, NSD Labels 
Excellence with hybrid printing – Herzog Etiketten, Label Apeel, Label-form, Reflex Label Plus
Excellence in finishing and embellishment – Edelmann Group, Litograf, MCC Australia, Springfield Solutions
Excellence in design – First Impression Labels, MCC Sydney, QLM Australia, QLM Vietnam
Application excellence – primary packaging – CS Labels, ProAmpac Grimsby, SunDance, QLM Australia
Application excellence – secondary packaging – Cepac, Independent II, QLM Vietnam
Analogue-to-digital – Independent II, MCC Australia, QLM Vietnam 
Innovation – MCC Australia, Mercian Labels, SunDance, QLM Vietnam
Variable data – First Impression Labels, Mercian Labels, Reflex Label Plus, The Label Makers
Self-promotional print – Baker Labels/BakPac, Boxmart, Delga Press, Hine Labels 
Environmental company of the year – ePac UK (Silverstone), First Impression Labels, Springfield Solutions
Best new company – 2K Polymer Systems, Lothian Labels, Rusken Digital, Sirane
Future star –Harry and Tom Baker, Baker Labels/BakPac; Ovidiu Gherghel, ePac UK (Silverstone); Georgia Francis, Harkwell; Tom Gould, Hine Labels; Helena Kellock, Label Apeel
A 15th award, the Supreme Award, is to be presented to the winning entry from across the 14 categories that has been judged to have best shown the capabilities of digital technology.
For the full details of those nominated for a Digital Labels & Packaging Award in 2023, see here.
Commenting, David Pittman, editor of Digital Labels & Packaging, said, 'Although this is only the second edition of the awards, it is pleasing to see how far the industry has come in that time. A more diverse group of companies have entered a growing book of work into more categories. These have been directly printed using digital, as well as those conventionally printed and finished digitally. As an indication of where the industry currently is and where it is headed, that is a strong endorsement of the capabilities of those already using digital to print and convert. Moreover, for those moving into digital, the possibilities are endless.'
With 'Best new company' one of the four awards added in 2023, those companies nominated in that category ideally illustrate this final point. They are: 2K Polymer Systems, Lothian Labels, Rusken Digital and Sirane.
Mr Pittman added, 'You can see and feel the direction of travel, which only bodes well for future awards competitions, although having seen this year's entries arrive and witnessed the judging process, the 2023 competition is a perfect example of what digital already does and can offer the supply chain as a cutting-edge production tool befitting the industry of today and tomorrow.' 
The Digital Labels & Packaging Awards 2023 lunchtime awards ceremony takes place on 29 June at The Kia Oval in London, UK. Tickets are limited and can be booked via www.dlandpawards.com or emailing chloe.w@whitmar.co.uk.