Awards success sparks celebration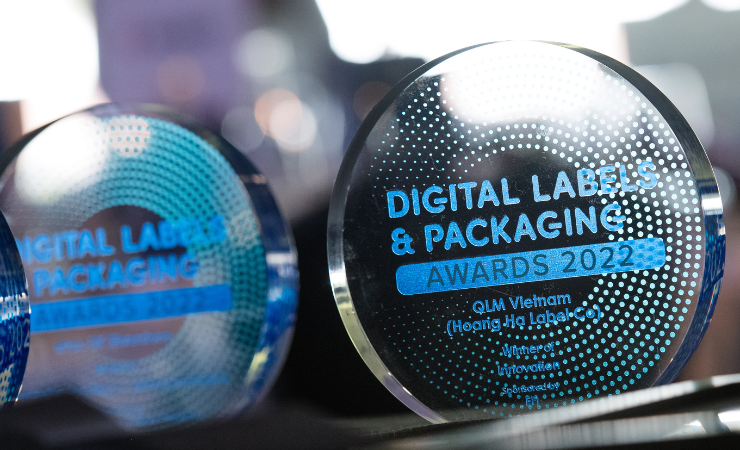 Digital Labels & Packaging Awards trophies are coveted prizes
Editor David Pittman looks back at the inaugural Digital Labels & Packaging Awards competition. The deadline for the Digital Labels & Packaging Awards 2023 is 21 April.
The introduction of the Digital Labels & Packaging Awards in 2022 proved to be the rip-roaring success we had hoped and planned them to be.
Introduced with 10 categories, the intent of the awards was and is to give the entire digital print for packaging value chain the opportunity to be celebrated and honoured in an environment befitting all its hard work.
From those printing and finishing labels and those converting sheets into folding cartons and corrugated boxes, to those decorating bottles, cans and even foodstuffs, the awards programme presented an opportunity for all to put their best work forward and be a winner.
Taking home the very first Digital Labels & Packaging Award was eclipse Labels, which won the 'Excellence in inkjet' category. Other winners at the inaugural awards included: QLM Vietnam, in the 'Excellence in toner' category; ASL Print FX, in the 'Excellence with hybrid printing' category; MCC North America Wine & Spirits, in the 'Excellence in finishing and embellishment' category; MCC Clydebank Scotland, in the 'Excellence in design' category; Hally Labels New Zealand, which was the recipient of the 'Excellence in sustainability' award; ePac UK Silverstone took home the 'Application excellence – primary packaging' prize; Cepac won in the 'Application excellence – secondary packaging' category; Haney came first in the 'Analogue-to-digital' category; and QLM Vietnam won again in the 'Innovation' category. QLM Vietnam went onto pick up the very first Supreme Award to be bestowed upon a category winner in the Digital Labels & Packaging Awards.
Following its success, Lindsay Nutley, director of marketing at QLM Group, said, 'We extend our thanks and appreciation to the team responsible for the Digital Labels & Packaging Awards. To our supply chain, print teams, design and marketing team and especially our clients, we thank you for your patience, bravery and creativity that inspired us to push for more from digital print. We were privileged to be among many other incredible entries and print companies, and we encourage you to continue to work on creative and industry leading solutions.'
Read more from other winners in the Digital Labels & Packaging Awards 2022 here. 
2023 contest
The Digital Labels & Packaging Awards 2023 are now open for entries, with the deadline being 21 April. An additional four categories have been added this year, taking the total number of category prizes up for grabs to 14, in addition to the Supreme Award. New categories this year are:
'Variable data', for those entries showcasing the use of variable data printing, customisation and/or personalisation for the benefit of the brand in question and its consumer customers;
'Self-promotional print', for non-commercial labels and packaging samples, produced digitally by printers and converters to showcase the breadth and depth of their capabilities;
'Best new company', for brand-new businesses that have started using digital to produce commercial work and/or existing companies that have added digital directly to their production mix for the first time; and
 'Future star', for any employee under the age of 30 within the supply chain, who is set to play a key role in the future of digital package printing.
Extending the categories opens up the awards to even more of the value chain and gives printers the opportunity to take home a Digital Labels & Packaging Award.
This year's judging panel has also been confirmed. Sean Smyth returns as head judge alongside Patrick Poitevin from last year's panel. They are joined by Jenny Stanley of Appetite Creative, who had to miss out last year due to illness, and new judge Greg Bentley, who needs no introduction.
The combined expertise of Sean, Patrick, Jenny and Greg will ensure the best work is nominated for awards and that this year's victorious companies represent the crème de la crème in each of the 14 categories.
The deadline for the Digital Labels & Packaging Awards 2023 is 21 April, and the entry form can be downloaded directly from here
More information on the categories and ceremony is available at www.dlandpawards.com