OPINION: Events are back(ish)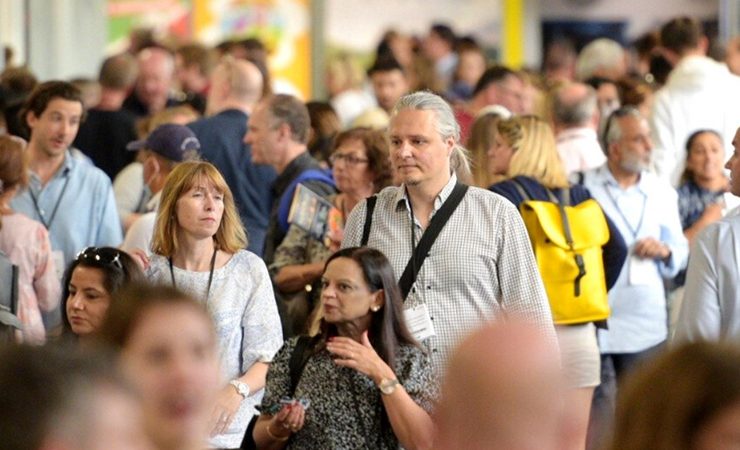 A busy show floor on day one of Speciality & Fine Food Fair 2021
Yesterday (6 September, 2021), I put on a suit and business shoes, picked up a wodge of business cards, and headed off to Olympia in London for Speciality & Fine Food Fair 2021.
This was the first time in 18 months that I have had the opportunity to walk the aisles of an exhibition and physically be in the presence of other members of the supply chain.
Much has been written about the desire and need to get events back up and running. I can state that the feedback from attendees and exhibitors this week confirmed this. Stands were full and aisles were busy. Exhibitors were ready and open to welcome attendees, and attendees were likewise looking to connect and engage with potential and existing partners. Smiles were plenty and, dare I say it, handshakes were abound.
The large-scale machinery events the print and packaging industry are more akin to might yet still be a while away from returning, but it was clear to me that you just can't beat the value and benefit of meeting face-to-face, sparking a conversation off, and building long-term relationships. As a note to all my friends and colleagues, perhaps take the time to warm yourself up for a full day walking a show floor. I'd forgotten but the soles of my feet wouldn't let me forget by home time.
And whilst Speciality & Fine Food Fair is not the usual type of event you might expect to see me at, it was a refreshing change to directly engage with the end-user community (and taste the odd sample). It is a part of the supply chain that Digital Labels & Packaging is actively looking to engage with more through editorial, and they are a core component of the audience at the annual Digital Print for Brand Success conference.
Having spoken to artisan chocolatiers, specialist distilleries, purveyors of preserves, funky snack brands, and other types of specialist and fine food companies at the show, it is clear Digital Print for Brand Success 2021 is a perfect event for them.
Whether a start-up looking to scale up, or an established brand looking to reposition itself after a tumultuous 18 months, this conference is the perfect breeding ground for ideas, networking and partnerships.
With its mix of brand owners, retailers, designers and leading printers, the Digital Print for Brand Success conference never fails to elicit lively debate amongst its delegates. Each year, topical issues and trends are discussed by expert speakers and panellists with the aim of driving the understanding and adoption of digital print technology.
From new sustainable packaging, format innovations, and advances in consumer engagement, to the tools and processes available to take your brand's appearance to new heights, Digital Print for Brand Success 2021 is a must-attend event that will help businesses of all scale and scope achieve success in a post-pandemic world.
For more information and to book your seat, visit www.digitalbrandconf.com.