The right colour label printer for the right application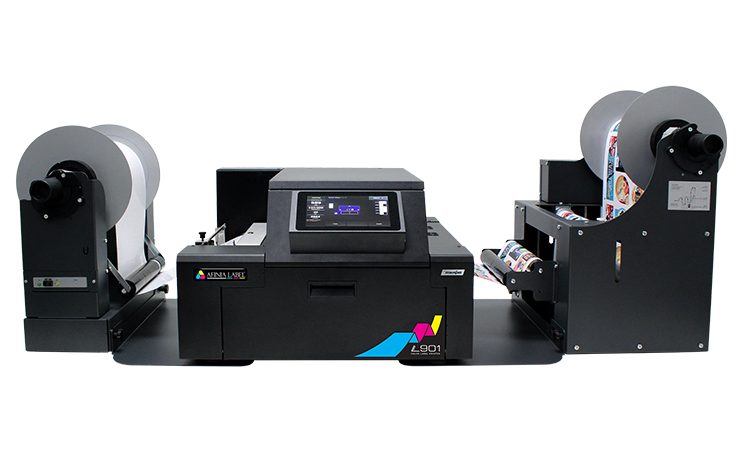 The Afinia L901 is designed for high volume label printing, benefitting from an 8in print width, 1600dpi resolution and print speeds of up to 12ips
Tony Mariani, managing director at AM Labels, an award-winning colour label printing machine specialist, label manufacturer, barcoding and software expert, details some of the colour label printers on the market, analysing the unique technologies offered by each, and explaining how they can improve a business' in-house label printing capabilities. 
Colour label printers are a cost-effective option to provide businesses with the power to design, print and manage high quality, full-colour labels, in-house. Low-cost models have advanced tremendously in recent years, offering the ability to replicate the print quality produced by conventional label manufacturers. A glossy finish with vibrant colours can be achieved, and some technologies can even produce a highly durable print with good chemical resistance, and compliant with BS5609.
The process
Most colour label printers use inkjet technology, utilising either dye-based or pigment-based ink. Traditionally, dye-based ink produces a glossier finish with more vibrant colours, whereas pigment ink is more durable. Despite this, the latest pigment-based ink printers achieve a finish that is much closer to that produced by dye-based printers.
Inkjet printers require media with an inkjet coating, which is often more expensive than other materials. As inkjet printers have grown more popular in recent years, the range of materials has expanded too, with a range of paper, synthetic, metallic and card materials now available.
The alternative to inkjet technology is toner-based printers, such as the OKI Pro1040 and OKI Pro1050. These models are similar to colour laser printers, however they instead use LED technology to produce images. Because they are toner-based, they do not require special materials, although there are limitations as to the materials that can be used, with the best results being achieved with a craft backing paper. The main advantage of toner-based printers is that they can produce a highly durable print.
The printers
Colour label printers can be categorised into three groups: low volume, medium volume and high volume. Each of the models within these three categories offer a variety of different benefits and features, providing businesses with the opportunity to produce high quality labels, in-house. 
Low volume colour label printers are priced at around £1000 and examples include the Epson ColorWorks C3500 and Primera LX500. Both of these models benefit from a compact footprint and feature a 4in print width. What's more, they are designed for low volume printing due to the fact that they both feature relatively small ink tanks.
In terms of print resolution, the C3500 has a resolution of 360 x 720dpi, with a print speed of up to 4ips. The Primera LX500 benefits from a higher print resolution of 4800 x 1200dpi, however this model is slower as it utilises moving head technology, as opposed to the fixed printhead on the C3500. Both models are versatile printers that can help users to customise and print their own labels on demand, ideal for printing packaging labels with colourful logos and pictures, tickets and identification cards with barcodes, in addition to food and product labels. 
Medium volume colour label printers are priced at around £2000 and examples include the Epson ColorWorks C6000 Series and Primera LX2000. C6000 printers are available in two options – the 4in-wide C6000, and the C6500 model that benefits from an 8in print width. The Primera LX2000 model also features an 8in print width.
Both C6000 and LX2000 printers produce high quality, glossy labels. The key benefit of selecting a more expensive printer with a higher volume is the larger ink tank, which ensures the ink is more cost effective. However, both models utilise moving head technology, which makes the print speed of the C6000 Series and LX2000 slower than printers that use fixed head technology.
The Epson C6000 Series also offers the capability of printing full-colour labels as small as 25.4mm wide, a specification suitable for e-liquid bottles, food and beauty products, in addition to producing labels that are resistant to water and many chemicals. This model can also print on-demand for multiple SKUs, meaning companies are not required to stock large quantities of pre-printed labels.
In the high volume category, there is a larger selection of manufacturers and technologies to choose from. The printers in this category feature fixed printheads and can therefore achieve faster print speeds. For example, the Epson C7500 is a high volume industrial colour label printer with a print speed of up to 12ips. Despite the fact that this model is limited to a 4in print width and 1200dpi resolution, the C7500 is highly reliable with innovative printhead technology that is designed to last for the life of the printer. What's more, the Epson C7500 utilises pigment ink technology, offering high levels of durability. The C7500 can also produce eye-catching labels that are easy to read, even where small text is used, ideal for applications in which quality and accuracy are paramount. Furthermore, this model can also prototype multiple label variations, to ensure businesses can respond in a timely manner to the changing demands of the marketplace.
The Afinia L901 is also designed for high volume label printing, benefitting from an 8in print width, 1600dpi resolution and print speeds of up to 12ips. The L901 comes complete with an external unwinder and rewinder, meaning it can accommodate larger label rolls with up to a 12in diameter, in addition to ensuring that less changeovers are required. This model also features a large built-in colour touchscreen, allowing users to monitor the status of each part of the printer. Label designs can be easily stored and recalled through the colour screen. L901 also uses dye-based ink, meaning it can produce highly glossy prints. Furthermore, this model enables businesses to run long roll-to-roll print jobs, as well as being designed for inline integration with label finishers, applicators, dispensers and high-volume digital label press configurations.
The OKI Pro1050 is the only industrial printer to use toner-based print technology, meaning it can produce highly durable print without requiring special materials. The print width is limited to 5in with a resolution of 1200dpi, however Pro1050 offers white as a fifth colour. This increases design flexibility and provides more scope for achieving high quality prints, on a wider range of materials. This model is ideal for applications including promotional, food and beverages, freezer and cold storage, as well as chemical, aromatherapy and e-liquid labelling. In addition, the printer's dry toner technology offers durable, high quality print results that are rugged and waterproof.
AM Labels stocks a wide range of colour label printers to provide its customers with a variety of options to meet their printing requirements. AM Labels works with companies across an assortment of industries, including manufacturing, chemical, food and healthcare, to provide them with the capability to customise and adapt their label printing operations – amlabels.co.uk
 Read more about inkjet digital label printing in the Guide to Inkjet Digital Printing 2021, published alongside the July/August 2021 issue of Digital Labels & Packaging – dlpmag.com/subscribe