Setting the tone in beverage packaging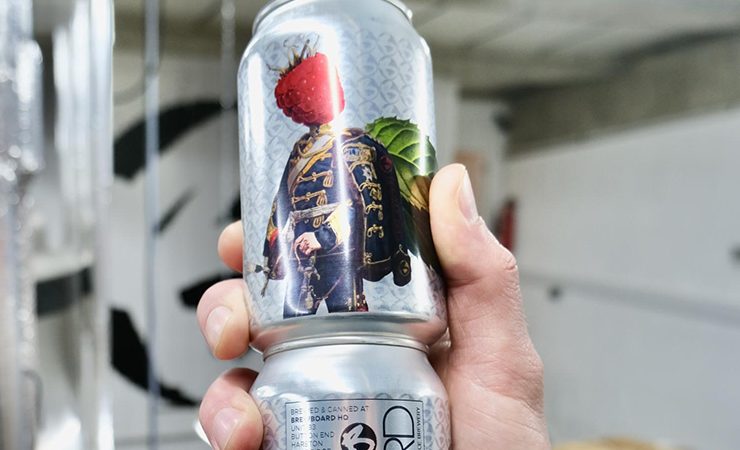 BrewBoard is now offering the first digitally printed cans for sale in the UK [source: Tonejet, LinkedIn]
With applications in Europe and North America based on its Cyclone technology, Tonejet sees huge potential for direct-to-can digital printing to disrupt the beverage packaging industry.
With shifts in attitude towards the way products are packaged, coupled with an increasing need for creative and customisable options, and pressure to react quickly to market trends and demands, Tonejet sees the beverage industry as experiencing significant changes. To this end, it identifies forward-thinking companies as introducing cutting edge technology that meets these changing needs in a way that could reshape the way beverages are packaged, marketed and consumed.
One such technology is the Tonejet Cyclone digital printing system. This deploys electrostatic drop-on-demand printing technology, achieving a 600dpi greyscale CMYK resolution at a speed of 60 cans a minute. Canada's SoluCan is now working with the world's first Cyclone system, while a further beta machine is up and running at Tonejet's headquarters close to Cambridge in the UK. This is handling short-run can decoration for a large global beverage brand as well as several smaller local craft brewers, such as BrewBoard which is now offering the first digitally printed cans for sale in the UK (pictured).
Tonejet CEO Rob Day explains, 'The current commercial reality of the industry is large manufacturers are using technology, and not least digital printing technology, to convert a small number of base products into myriad variants in response to customer orders and fulfilling those orders within hours or days. You cannot do that if your product packaging has to be produced using printing plates and labels.
'The same technology that enables global brands to do this can be used by innovative start-ups who rarely manufacture anything in runs longer than a few tens of thousands. Craft beer is a perfect example. In the US, overall beer sales are flat, but the $27 billion craft beer market is seeing growth closer to 10%. That's around 7000 breweries, all wanting to make seasonal specials and short runs for sports or cultural events in addition to their core products, which are themselves niche and low volume. And it's not just beer: new beverage categories like hard seltzers are seeing 200% growth, as a younger demographic looks for low alcohol, relatively healthy drinks that are sugar-free.'
Water, wine and coffee are also migrating to aluminium cans, which are lightweight and 100% recyclable, and offer a more environmentally friendly option to single-use plastics and other rigid packaging containers.
'When it comes to bottles the facts are stark with less than 10% of plastic bottles being recycled compared to 50% when we look at aluminium cans – a figure set to increase as domestic recycling becomes more efficient. Cans are 100% recyclable so are more environmentally friendly; in fact, most new beverage cans today are made from recycled aluminium. Cans also stack up well against the heavy and fragile glass bottle, eliminating the need for any secondary packaging materials. The demand for beverage cans, which has been growing steadily at around 3% per annum in the last five years, will increase further as brands switch from both plastic and glass to aluminium.'
On a practical level, Mr Day notes that brands who want to buy printed cans from can makers have a number of issues to deal with, including large volumes. 'This tends to be a major stumbling block for smaller craft brewers,' he says, 'who will need to work through – and pay – an intermediary distributor. Additionally, traditional can printing requires the production of printing plates, which cost thousands of pounds and take months to procure, leading to a minimum order volume of around 100,000 units.
'This leaves larger brands suffering from a lack of agility and procurement delays while smaller, independent brands would struggle to even get started. This is where Tonejet fits in, as our customers are specialists providing services to smaller breweries and larger brands wanting to run promotional specials, create limited edition beverages, or use unique barcodes for track and trace.'
Tonejet started as a technology project within TTP Group, a European technology and product development company, before becoming a wholly owned independent subsidiary. Working out of a recently opened, cutting-edge production facility, Tonejet now manufacture the Cyclone almost entirely in-house. Printheads are produced in cleanrooms, systems are assembled, and full testing and commissioning take place on-site.
'We consider the business very self-sufficient and vertically integrated, ensuring tighter quality control, and a better flow and management of information across the supply chain, which is vital in such a specialised field,' comments Mr Day.
And while the manufacturing side of the business is entirely UK-based, around half of demand is reported to be coming from the US.
'It's an enormous opportunity,' states Mr Day. 'The Cyclone cuts short-run packaging costs when compared to labels or sleeves by around two thirds. The real value of digital, however, is in the new functionality and supply chain dynamic it enables. Mass-customised products are in their infancy but have been so successful that they will become the norm once supply chains are remodelled to fit this new way of doing things. Sales increase and premium pricing is achievable when packaging is targeted at specific consumer niches who will really identify with the product. Then there is the brand activation that is possible through web or social media-driven promotional messaging, perhaps triggered by a unique VR or other code on a pack. The list goes on.
'We are just entering the age of mass-customised product. Designers and brand owners are only just getting a feel for all the possibilities that targeted digital packaging can bring with it. Big brand campaigns like 'Share A Coke', which created a 7% increase in sales, are leading the way and flying the flag for digital. It takes a while for the industry to understand and appreciate that with digital, every single can could be produced with a different image, creating virtually limitless design possibilities.
'Every brand owner we've met is excited by this prospect and the additional benefits the Tonejet Cyclone offers, and we cannot wait to get more systems on the market to serve them.'
As digitally printing directly onto cans, bottles and other containers continues to gain traction, read more about the various types of digital direct-to printing – cans, glass, drinkware, etc –  in Digital Labels & Packaging throughout 2020, and beyond; register here to receive the magazine
Hear more about direct-to printing at the 2020 Digital Print for Brand Success conference; click here for further details about the 19 November event