SoluCan goes direct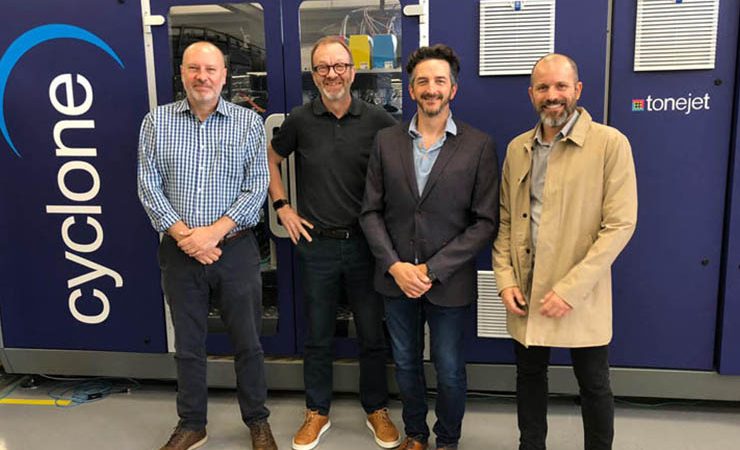 Pictured (from left): Marvin Foreman, sales manager, Tonejet; Rob Day, CEO, Tonejet; Sebastien Baril, Solucan president; Jean-Francois Gaudreault, SoluCan general manager
In a world first, SoluCan has invested in a Tonejet Cyclone direct-to-can digital printing system to provide its customers with a means to meet the evolving regulatory landscape in Canada.
SoluCan has been established to offer the North American canned beverage industry a complete digital printing option with flexible quantities. Its 16,000sqft facility located at Trois-Rivières in Quebec, Canada will soon house the Cyclone, an exclusive in North America, as part of a pallet-to-pallet automated production chain. This includes depalletising, printing, curing and repalletising.
As well as flexibility in quantities and image reproduction, the use of direct-to-pack digital printing helps alleviate waste and recycling issues that often accompany the use of labels and shrink sleeves.
Like many other places in the world, Quebec is witnessing pressure to increase packaging sustainability. The provincial recycling body, Recyc-Québec, is enforcing new environmental regulations, making some beverage containers obsolete. SoluCan identifies the plastic shrink sleeves and pressure-sensitive labels currently used for short- run beverage can decoration as having a high environmental impact. It predicts these will become obsolete when new standards are enforced. With cans produced using the Cyclone system being 100% recyclable, and using a single thin layer – less than one micron – of certified food-grade ink, they provide a future-proof option.
Sebastien Baril, president at Solucan, explains, 'The government [in Canada] is looking for a recyclable solution and we have their support towards a better canning solution for the industry.
'Currently, beverage producers wanting to avoid labels have to purchase from the major can manufacturers, whose minimum quantities are far too large for any microbrewer or craft beer producer that we are working with. With the Cyclone, these issues are addressed – the system allows us to keep up with changing consumer habits, transforming packaging as we know it.'
He continues, 'We are focused on offering a cost-effective, environmentally-friendly solution to our customers and to theirs.'
Transformative
Cyclone is a digital printing system that deploys electrostatic drop- on-demand printing technology, achieving a 600dpi greyscale CMYK resolution at a speed of 60 cans a minute.
Tonejet's electrostatic print technology combines a novel printhead architecture with proprietary ink formulations. Its printheads contain an array of ejector electrodes positioned inside an open, cleanable structure. Such a 'nozzle-free' structure combined with automated ultrasonic printhead cleaning technology provides reliable industrial operation. The ejection process is electronically controlled, allowing precise adjustment of ejected drop volume without any impact on print speed. Tonejet's 'nothing but the colour' inks produce a printed layer consisting almost entirely of colour-rich pigment. An industry standard overprint varnish creates a tough ultra-thin ink layer, with consumables costs much lower than competing digital technologies. Tonejet CEO Rob Day sees the new capability offered by the system at SoluCan as transforming the beverage industry in Canada.
'The company can offer digital packaging to beverage producers whilst complying with new government regulations,' he says.
As well as environmental gains, customers stand to benefit from enhanced marketing real estate. Digital printing allows the beverage cans to be, 'transformed into a totally digital portal,' says SoluCan general manager Jean-Francois Gaudreault.
'Linking packaging to the digital world, accessible via your smartphone or laptop, is a total game-changer and provides a powerful marketing tool. In addition to using the space to promote events, marketing promotions, etc, you can include codes to link to augmented reality apps and even invisible codes and water marking.'
This article was first published in the November/December edition of Digital Labels & Packaging, which you can read in full here