Direct-to-pack takes shape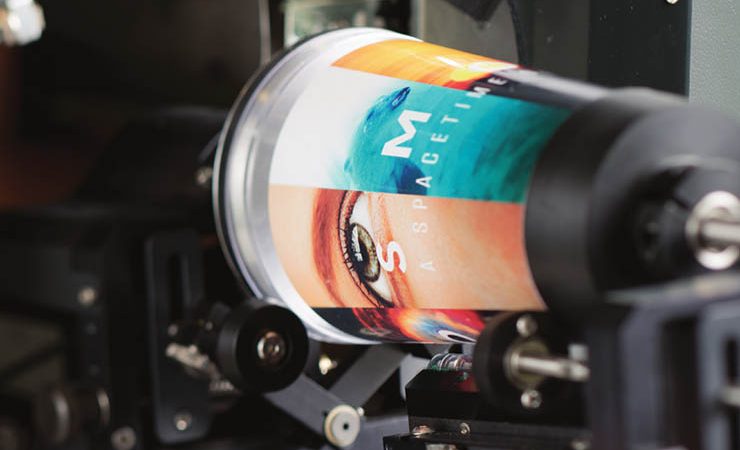 The Inkcups Helix Hi-Fi uses patented helical printing technology
Digital printing directly on to a pack is an evolving market but one offering exciting opportunities as the technology and demand develops.
Ofer Nir, vice president of marketing and business development at Velox, says, 'With direct printing, the decoration is part of the product itself, and not a separate 'layer' on top of it, thus delivering a much more premium look and feel. Can you imagine the sleek MacBook, where the Apple logo is a sticker and not embedded in the laptop itself?'
Gary Jenno, segment business manager at Xaar, states, 'Digital printing allows cost-effective production across different volumes, be it from a single container to high production volumes. As a result, brands have the freedom to localise, personalise and customise their products to drive highly-effective promotional campaigns. The process allows brands to conduct new, cost-effective product trials and to tailor production to meet consumer demand for greater choice.'
Zsolt Rozsnyai, product manager for digital printing at Krones, makes clear, 'The interest and demand for direct-to-shape technology is huge. We are convinced that this technology will prevail in the packaging world in the near future due to today's requirements.'
Drivers
Many of the factors driving the market are similar to other packaging industries and their adoption of digital printing technology. For Inkcups, this includes personalisation, more sustainable processes, and desire for high-quality graphics and imaging.
'The personalised drinkware market has been growing rapidly over the past few years,' says Inkcups CEO and owner Benjamin Adner.
'These items are in particular demand during company events, family celebrations and reunions and even gifts, especially during the holidays. Direct-to-shape printing enables operators to print one-offs, meaning just one item at a time. This gives companies and customers the flexibility to order customised products and deliver a product that is uniquely their own. This type of printing is also more sustainable. Other processes such as sublimation or screen printing produce excess paper, plastic and ink that is wasted. Direct-to-shape printing uses a small amount of ink with very little waste. Finally, direct-to-shape printing enables operators to reproduce full-colour, seamless images that are otherwise impossible to achieve with other printing techniques. The quality of these machines is unmatched.'
Mr Jenno says, 'As well as removing the need to print and apply labels, direct-to-shape avoids waste from overruns, misapplication or changing label designs. The non-contact nature of the process means less expensive thinner-wall PET can be used. By printing exact quantities of containers with the precise direct-to-shape container decoration and information, the volume of labels, label liners and adhesives are significantly reduced and prevented from entering land ll sites and recycling streams.'
Marvin Foreman, sales manager at Tonejet, affirms that, 'By eliminating the need to procure, stock, apply and recycle labels, a brand owner saves money and makes their product more sustainable. Labels, whether pressure-sensitive or shrink sleeve, are more expensive than direct decoration. In Tonejet's case where we are printing beverage cans, the printed can remains 100% recyclable. However, if a label is applied the liner has to be disposed of, and if a plastic shrink sleeve is applied it has to be removed before the can is recycled.'
Such drivers lead Mr Nir to state, 'Direct printing is a significantly more sustainable decoration method than labelling/sleeving.
'Just eliminating the label substrate itself provides a huge sustainability impact. To that one can add the logistics simplification, labelling chemicals reduction and more.'
Another factor identified by Mr Rozsnyai is gains in production. 'Time- to-market is a decisive factor in production,' he opines. 'Direct-to-shape printing allows a quick reaction to changes in the market and new trends.'
Integration of personalised elements and variable data, such as bar, QR and other codes, bridges the gap between production and marketing.
For marketing purposes, Mr Rozsnyai notes the ability to decorate areas of a pack that cannot be labelled as a plus point. Another is the creation of printed structures combining optics and haptics – look and feel characteristics.
NPD
These factors are driving new product development in the supply chain.
Tonejet's Cyclone is an end-to-end system for beverage can decoration, based around the Tonejet Cyclone C4 digital printer. It features proprietary printhead and ink chemistry to print directly onto beverage cans and apply industry standard over-varnish to provide toughness and a smooth surface finish. It prints at 600dpi with up to 128 grey levels available even at full print speed, making full colour photographic images and  ne text equally achievable.
The Velox IDS 250 is commercially available and decorating tubes and cans at a speed of 250 containers per minute with 14 different colours and embellishments. Based on Velox's variable viscosity ink and adaptive deposition architecture, IDS 250 is designed to replace analogue direct- to-shape for any batch size.
Inkcups' recently released Helix Hi-Fi utilises patented helical printing technology as well as adding two colours – light cyan and light magenta – to print photorealistic images. This machine excels at smoothing out gradients and skin tones in photographs that may be printed directly onto the drinkware item.
Dekron, Krones' subsidiary for digital decoration technology, now has four machines in its portfolio that are tailored to different outputs and different substrates. These are able to print up to 36,000 bottles an hour on substrates such as PET, HDPE and glass. Several machines are already producing worldwide, mainly on glass, notes Mr Rozsnyai, while a demonstration of Dekron printing 100% rPET with a recyclable and low migration ink was shown at K in Düsseldorf this past October.
Future growth
Applications such as the above provide a pathway for growth for direct- to-pack/direct-to-shape printing.
Mr Foreman says, 'We are seeing strong interest not just from packaging converters serving craft brewers who are switching from labels, but also from some of the largest global beverage brands. The large brands traditionally buy their packaging pre-printed on long lead times in volumes of at least hundreds of thousands. Their markets are changing fast, with increasing demand for a larger range of product variants, and 'standard' product in customised packs – sports events, movie partnerships, the list is endless. Add to that their desire to understand and replicate the craft beverage phenomenon, which is predicated on local, artisan limited edition supply. The only way to achieve the agility and flexibility needed is to bring packaging printing in house and make it digital, and we are running trials as a precursor to exactly that.'
Mr Adner adds, 'In the near future, we envision more robust systems. Meaning, instead of having multiple machines in a production line, there will be one machine that can pre-treat, print and load finished items into a box to be shipped. This increased flexibility will help to improve workflow efficiencies.'
Mr Jenno sees demand for sustainability as likely to result in an increase in the use of paper containers and technology. 'With this move will come the challenge to develop non-migratory inks and to produce images of quality that exceed those offered from traditional labelling solutions.'
'The increasing flexibility and the demand for more individuality is the basis for the success of direct-to-shape technology,' says Mr Rozsnyai. 'Sustainability will play a very strong role in the near future. For this reason, we are placing strong emphasis on recyclable materials such as containers and printing inks, for example in plastic decoration.'
When coupled with decoration quality and sustainability, Mr Nir says speed makes direct-to-shape printing a truly disruptive technology. This will be furthered as direct-to-shape becomes able to, 'decorate at full production speed and become economically viable for any batch/lot size, not just for short runs.'
He concludes, 'We strongly believe that any segment that can be directly decorated, in high quality and economically, will do so. In other words, after talking to multiple tier one global brand owners in the FMCG industry, and understanding their point of view, we believe that in the very near future we will see much more digital direct printing.'
This article was first published in the November/December issue of Digital Labels & Packaging, which can be read here