Trio intro latest direct-to-shape developments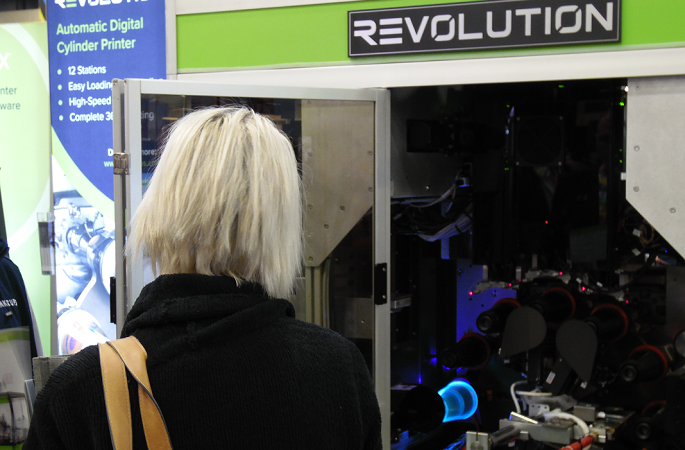 A demonstration of the Inkcups Revolution automatic digital cylinder printer at Printing United
Machines Dubuit, Inkcups and Marabu all used last week's Printing United exhibition in Dallas, Texas to introduce their latest technologies that are set to shake up the market for digitally decorated drinkware and other cylindrical objects.
Printing United, which ran 23-25 October, was the first exhibition from SGIA since it rebranded SGIA Expo under an all-encompassing 'one-roof concept'. The result was a show that served as a think tank for various print industries, from packaging and commercial printing, to graphics and wide format, car wrapping and direct-to-garment. Direct-to-shape also had a meaningful presence on the show floor, such as on the Engineered Printing Solutions (EPS) booth, where French firm Machines Dubuit was exhibiting MD9450.
This is a five-colour UV LED inkjet system (CMYK+W) that has a native resolution of 360 x 360dpi and visual resolution of 720 x 720dpi, delivered using Konica Minolta printheads. Drop-on-demand technology allows variable drop sizes to improve gradients and printing of pale colours. Corona pre-treatment and varnishing allow up to 800 parts an hour to be output, with a diameter range of 19-120mm, height of 40-250mm and a maximum image height of 210mm. Multi-tooling capability allows different types of product to be decorated, with the technology's application for drinkware shown at Printing United. Four parts can be processed simultaneously.
MD9450 was presented by EPS at Printing United as Machines Dubuit looks to grow its presence in the region.
On the Inkcups stand, an entirely new piece of equipment was introduced. Building on its existing portfolio, including the Helix and X360 printers, Revolution is a 12-station automatic digital cylinder printer. Also using UV LED inkjet technology, Revolution has an ink configuration of CMYKWWVV and offers a standard resolution of 702 x 900dpi. LED curing is used for pinning and final curing. Varnish is a standard feature. Revolution can handle parts with a diameter of 63.5-115mm, and a length of 76-305mm. Integrated pre-treatment ensures products are prepared uniformly for printing to achieve optimum ink adhesion. Output from Revolution is specified at 600 parts an hour.
Automatic handling allows for hassle-free production, with the ability to queue and automatically run the next job speeding up production. Servo-driven angle adjustment allows the printhead to move along the taper of cylindrical parts in a XY motion to maintain the distance between the nozzle and the surface. A maximum taper angle of 10 degrees can be accommodated.
Another showcasing a development for digital decorated drinkware was ink specialist Marabu North America, with its first digital printer M Revo. Again using Konica Minolta printheads, M Revo runs the company's own UltraJet inks. Variable drop sizes down to 6pL and eight levels of grayscale are offered, using single-pass technology and meaning only one revolution is required per colour. This results in a print speed of up to 90 parts an hour.
M Revo can handle objects with a diameter of 40-150mm, print lengths up to 320mm and a taper angle up to 10 degrees.
M Revo was presented as a technology demonstration at Printing United, and will be formally introduced in early 2020.
Read more about the direct-to-shape/direct-to-pack market in the November/December issue of Digital Labels & Packaging