Esko releases AutoSet Digital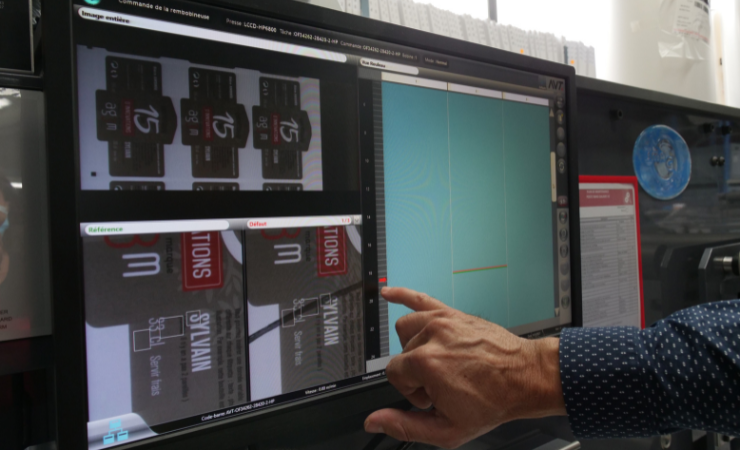 AutoSet Digital is an end-to-end inspection workflow developed for digitally printed labels
Esko has launched an updated version of AutoSet to provide a complete end-to-end print inspection option for digital label production.
AutoSet is a digital link between Esko's Automation Engine, the Esko packaging pre-press workflow server and AVT's 100% print inspection technology. By enabling Automation Engine to setup AVT inspection systems on conventional and digital presses, as well as on rewinders in an automated way, the development forged the path for the two businesses to work more closely together. AutoSet Digital has been introduced as an end-to-end system that automates AVT print inspection of digitally printed labels from pre-press through to on-press and finishing. It works with standalone digital printing presses and hybrid presses, as well as digital finishing lines.
This system combines the AVT Helios 100% print inspection systems with automation, allowing operators to automatically upload and switch between jobs and enabling the AVT WorkFlow Link to record, scan and edit multiple jobs on the same roll. With the Digital Workflow, unique barcodes are used to identify the job automatically. When these barcodes are identified between jobs or within the print job design, they automatically set up the inspection parameters for the job that has already been created in pre-press. The system automatically loads up inspection parameters between jobs, keeping the line running, 'saving the business time and money, while ensuring accuracy and reducing waste,' noted Guy Yogev, senior director of product marketing at Esko.
'Historically, many businesses have been put off investing in print inspection on digital lines because of perceived product limitations,' he commented. 'For example, an inspection system needs to be set up for every run and digital printers will typically have multiple SKUs in the printed roll; in many cases the design and job can change on the fly with no press stop.
'With inspection you might have had to stop and reset the system for each SKU, which created a real-time barrier with integrating inspection. But now, AutoSet Digital takes information for each SKU from Esko Automation Engine and relays it directly to the print inspection system.'
Giving an example, he goes on, 'It could be a single label due to an isolated defect, or an entire segment if there has been an issue. Either way, the operator can immediately clean up the roll and rectify the error, it also brings operator efficiencies, freeing up their time to work on other value-adding tasks during a run.
'The system on the press records defects and after production the physical roll is uploaded to the finisher together with the virtual roll. This virtual roll includes the recorded defects mapped on the entire roll and either the operator or a dedicated QC editor can review and edit the virtual roll. Once edited, the mapped virtual roll will automatically signal the rewinder/doctor machine where the physical roll should stop at the identified point to remove the defect.'