Xeikon set to release Cheetah 3.0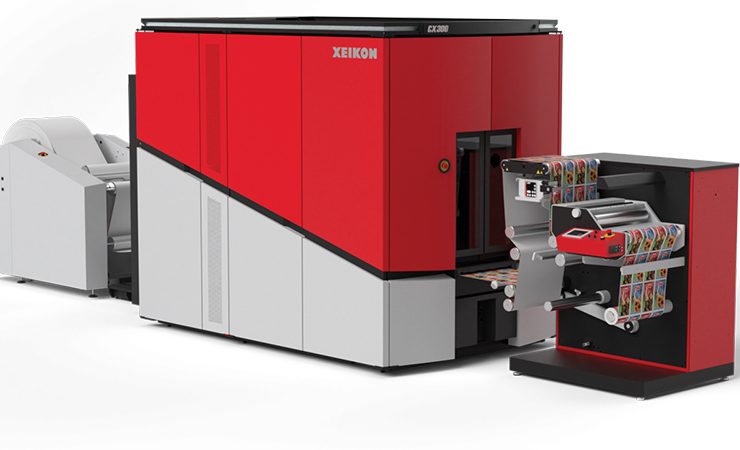 Xeikon's Eco toner will be available for the company's CX300 (pictured) and CX500 Cheetah series presses.
Xeikon has developed Cheetah 3.0, the latest iteration of its dry toner digital printing technology for labels and packaging.
A major development as part of the launch of Cheetah 3.0 is the company's next-generation, food-safe toner, Eco. This toner has been formulated with over 60% high-grade recycled PET, 'making it the ideal solution for environmentally conscious packaging applications', according to Xeikon. By harnessing the power of recycled materials, Eco is said to not only meet 'ever-growing demand' for sustainability but also ensure compliance with increasingly stringent regulations governing packaging components and recyclability.
Xeikon's Eco toner will be available for the company's CX300 and CX500 Cheetah series presses.
Filip Weymans, vice president of marketing at Xeikon, said, 'With its exceptional print quality, high reliability, and eco-friendly composition, Eco toner makes a meaningful contribution in Xeikon's unwavering commitment to delivering both high-performance and environmentally responsible printing solutions.
'Using Eco toner can reduce the carbon footprint of the printing operation by 10%, and importantly, it will not increase costs unlike other eco solutions. We are also proud to say that all Xeikon toners remain the market's most food-safe technology for digital printing.'
At the same time, Xeikon has developed the quality measurement module (QMM), which can be fitted on all Cheetah 3.0 CX series presses as an option. QMM is responsible for the quality assurance of the printed output, closely monitoring the density and registration throughout the print run.
Mr Weymans commented, 'By eliminating waste and guaranteeing high quality, the Xeikon QMM will allow printers to deliver perfect labels to their customers more cost effective. It is another great innovation from Xeikon that helps to support the advancement of sustainability in digital label production.'
Both Eco and QMM are part of Xeikon's effort to advance sustainable digital production of labels and packaging,
Read our early-stage preview of what promises to be a large and important edition of Labelexpo Europe for the digital print for packaging supply chain; then read the forthcoming July (issue 4) and August/September (issue 5) 2023 issues of Digital Labels & Packaging for further updates and previews of what to expect at Labelexpo Europe 2023; register here to receive the magazine