Aquapak joins CEFLEX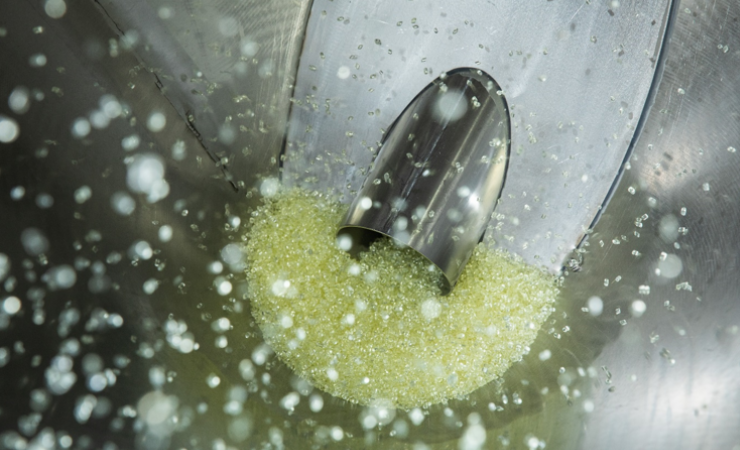 Hydropol resin pellets are produced at Aquapak's plant in Birmingham, UK
Aquapak Polymers, the material technologies business which developed Hydropol, a polymer based on PVOH, has joined The Circular Economy for Flexible Packaging (CEFLEX) initiative. CEFLEX is a collaboration of over 180 European companies, associations and organisations representing the entire value chain of flexible packaging with a mission to make all flexible packaging in Europe circular by 2050.
Membership of CEFLEX will allow Aquapak Polymers to promote the circular economy benefits that Hydropol provides by ensuring that all flexible packaging is effectively and responsibly recycled by developing robust 'designing for a circular economy' guidelines so that packaging materials are returned to the economy at the quantity, quality and price for end market applications.
Hydropol can be used as a mono-material or in combination with a range of other materials – it's recyclable, biodegradable, compostable with no adverse impacts on the marine environment. Hydropol can be coated onto plastics, as well as paper and board where it has gas and grease barrier properties, with additional functionality such as heat seal and increased paper sheet strength.
Hydropol is a thermoplastic polymer so can be mechanically recycled back into pellets for reuse. The company claims it works well in closed capture loops, such as retail, where it can be collected in bulk. In mixed household plastics recycling, Hydropol can be identified and separated using infra-red during sorting.  If this is not available, then hot water will dissolve the Hydropol resin, allowing recovery of packaging materials without contaminating plastic streams.
Based on CEFLEX's 'designing for a circular economy guidelines', which gives practical support and advice on circular economy design principles, Hydropol is compatible with today's CEFLEX guidelines for levels up to 5% by weight and is deemed compatible with PE and PP mechanical recycling. In addition, CEFLEX is currently evaluating test data from accredited laboratories to confirm that Hydropol is suitable for polyolefin waste streams.
Mark Lapping, CEO at Aquapak, commented, 'We are pleased to be part of the CEFLEX initiative and its drive to make flexible packaging circular by 2025. The reality of most standard recycling plants across the globe is that currently they concentrate on two or three plastics that have the largest quantities and therefore the most value when recycled (such as PET). Hydropol, which is non-toxic and marine safe, is compatible with current recycling infrastructure and offers the industry a way to protect resources and the planet.'