Construction finished on Georgia-Pacific's Phoenix operation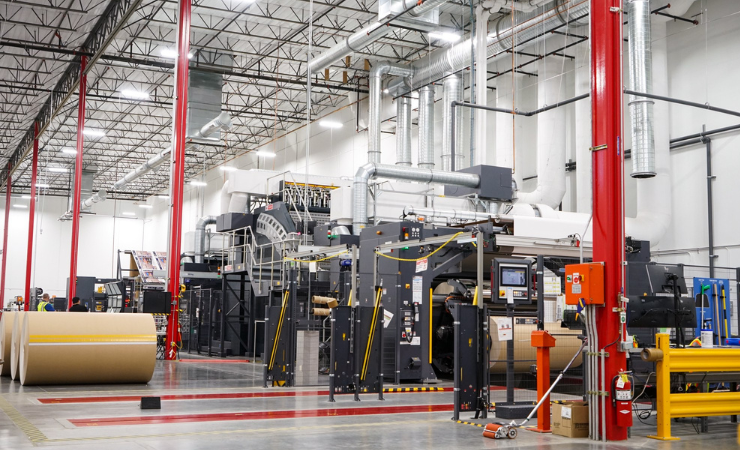 Georgia-Pacific Stevens Leinweber Construction
Stevens-Leinweber Construction has completed the custom build-out of 160,000sqft at Phoenix Logistics Centre (PLC) Two, designed to meet the manufacturing and distribution needs of tenant Georgia-Pacific (GP) and its HP PageWide T1190 press.
The new press was purchased to expand the Hummingbird digital print offering by GP. The equipment makes GP the only packaging supplier in North America to offer 110in-wide web inkjet digital printing, which gives its customers flexibility for high graphic packaging.
GP's Hummingbird operation provides a range of digitally printed corrugated packaging for consumer packaged goods (CPG), electronics, and food and beverage brands across North America. Its digital offerings include corrugated shelf-ready packaging (SRP), food trays, large format boxes, e-commerce options, and volume displays (POP).
'This project was a great exercise in listening, learning, planning and executing on precise requirements, with a result that brings something very unique to the Valley,' said Stevens-Leinweber Construction vice president Erik Powell. 'Those requirements influenced everything from our earliest foundation plans to the final assembly of the T1190 press, which came in numerous cargo boxes shipped from overseas, trucked to the PLC Two building, and then unboxed and assembled piece by piece by experts brought over from Germany for this specific task.'
To support the T1190, SLC constructed a specialised foundation requiring 163 piers, each drilled 15ft deep, to help support an 18in thick mat concrete foundation with heavy rebar reinforcement. The construction team also brought in 7200 amps of dedicated power specifically for the Georgia-Pacific tenant improvement. A heavy-duty HVAC package was installed during the build-out to help manage the higher level of heat and air pressure generated from the printer.
The T1190 printer is part of a larger Georgia-Pacific operation at PLC Two that includes a 40,000sqft printing production space, 110,000sqft of specialised storage space, and 10,000sqft of interior office, breakroom and conference areas.