Infigo adds AI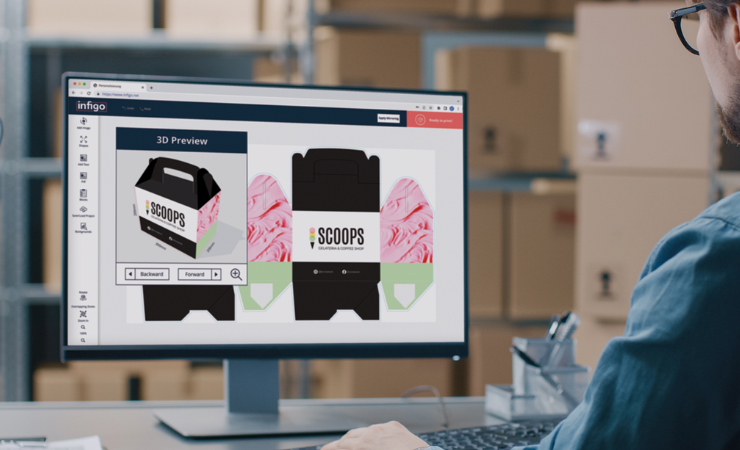 W2P specialist Infigo is adding artificial intelligence (AI) to its toolkit via the introduction of parametric design
W2P specialist Infigo is adding artificial intelligence (AI) to its toolkit via the introduction of parametric design.
Parametric design is noted by the company as, 'a method whereby three-dimensional product features on packaging products, for example boxes or cartons, can be shaped according to algorithmic processes rather than created by a designer.'
The new product will work alongside Infigo's MegaEdit online product designer. This will help build on the foundations for additional development of AI design tools in the near future. Initially introduced for the packaging industry, parametric design will be rolled out to label converters, then general and commercial printers.
Infigo's introduction of AI capabilities coincides with the packaging industry experiencing increased demand for digital printing options that offer greater speed, flexibility and efficiency. Coupled with that, Infigo noted the rise of the ChatGPT AI chatbot as 'taking the search and content world by storm'. According to the company, 'The print industry is next in line to benefit from the AI revolution', with Douglas Gibson, Infigo CEO and founder, saying, 'The market really is on fire right now, as a plethora of new machine launches from HP and other leading manufacturers are driving efficiencies for the 24/7 digital factory.
'Coupled with integrations from leading providers such as Hybrid Software and Cerm, the perfect automated print factory is becoming a reality. This is the first in a series of modules and integrations that will allow this unique marketplace to deliver highly profitable short-run packaging through AI.'
He continued, 'We have all seen an upward trend of demand from the packaging space, and it's never been more important to support that demand with tools our customers and partners require to deliver and excel.'
Infigo showcases its new parametric design tool at InPrint in Munich across 14-16 March, 2023.