ABG-Durst hybrid headed to Inland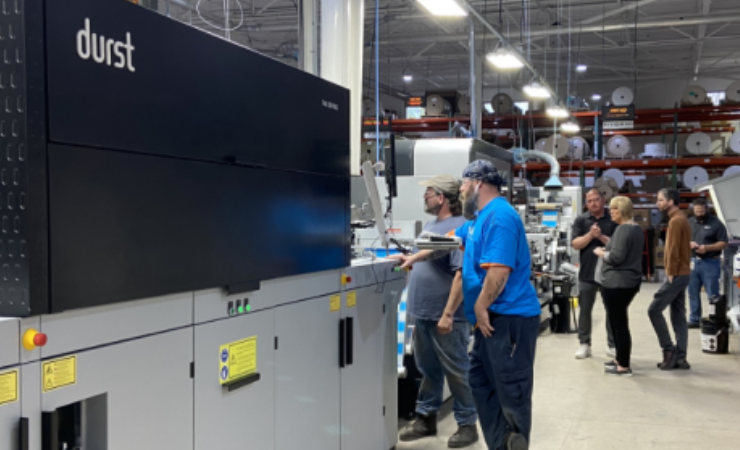 Inland's new ABG-Durst hybrid has been engineered to offer the best of digital and flexo
Wisconsin-based label manufacturer Inland is shortly to take delivery of a landmark hybrid press, integrating Durst's 1200dpi UV inkjet digital printing technology with converting units from A B Graphic (ABG).
Inland is a label and packaging manufacturer serving a variety of end-use markets. The company started life in the early 20th Century as a commercial printer serving the local community in La Crosse, Wisconsin. Over the years, the company has transformed its outlook, application range and capabilities. This has included the addition of digital to analogue print processes, with an HP Indigo 20000 part of its press portfolio today as an example.
To be installed at the company's location in Downingtown, Pennsylvania, the ABG-Durst hybrid marks a first for Inland by introducing hybrid production to its capabilities. Capable of running at upwards of 90m/min, Inland's hybrid press will primarily be used for pressure-sensitive work with the potential for shrink sleeves and cosmetic webs for flexible packaging to be run on the press in the future. The press can run the traditional pressure-sensitive materials with additional features like cold foil capabilities, the ability to back print, as well as offering digital white at a claimed opacity close to rotary screen.
As well as white, the seven-colour Durst Tau inkjet engine at the heart of the hybrid line features CMYKOV colour channels. Inland noted that by utilising expanded colour gamut inks within the press, 'allows precise colour to be run interchangeably across the hybrid or the flexo press with seamless repeatability from run to run so your branding isn't sacrificed.'
ABG's contribution to the platform includes flexo units, a non-stop splicer, turn bar, and two UV curing stations before the digital print engine, with a further two flexo stations after along with another pair of UV curing stations, die-cutting, 100% inspection and inline turret rewinding. ABG's FleyeVision camera system will provide near 100% inspection on every production run. At the front of the press, a non-stop unwind system allows our operators to load new material while a current job is running, while also being able to splice off. At the back of the press, the turret rewinder automatically splices rolls into the correct quantity.
'The ABG-Durst hybrid press is an exciting new addition to our Downingtown location, and we can't wait for you to experience the benefits of this piece of technology with us,' the company stated.