ePS on modernisation path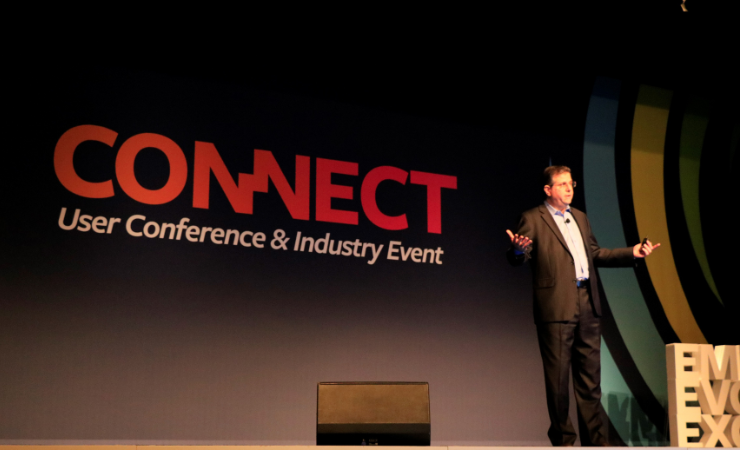 ePS CEO Gaby Matsliach opening the Connect 2023 user conference and industry event
eProductivity Software (ePS) has used its first Connect user conference to lay out the future roadmap for the evolution of its workflow software for various print and packaging verticals.
The company has not long since marked a full year since its separation from EFI and becoming a standalone company. As part of this, the Connect event was transferred across with ePS. The first Connect held under the auspices of the company has now concluded, bringing together company executives, product managers and customers to remark on the impact being an independent entity has had on the business. For digital package printing, a key development to feature as part of its next releases will be bi-directional integration between its products and HP Indigo, delivering end-to-end traceability for digital label production (read issue 1, 2023 of Digital Labels & Packaging for more specifics of this development).
Speaking on the opening day of Connect 2023, ePS CEO Gaby Matsliach commented, 'Connect provides attendees with intimate access to our latest technologies, the ability to speak about the future, and also give input and thoughts about where and how our technology should evolve and what you want to see in our roadmap.'
Updates were presented through breakout sessions and technology paths dedicated to the various print verticals where ePS has an interest via its software products and application suites. These ranged from incremental developments within specific products to improve usability and functionality to more complex product updates and modernisation programmes. Many of these will become more widely available as ePS rolls out the next versions of its products, such as Packaging Suite 11/11.1. 24 partner companies present in the main networking hall then provided additional knowledge and demonstrations of how developments across the entire print ecosystem can result in growth and value creation throughout the supply chain. Those exhibiting included press manufacturers such as HP and EFI, fellow software vendors Hybrid Software and Fiery (now an independent company itself), industry associations TLMI and FPA and educational body Cal Poly.
Mr Matsliach continued, 'When we became an independent global software company, our intent was to establish Connect as more than a user conference and turn it into a wider industry event, enriched by print industry ecosystem partners to deliver a broader perspective and more value.'
The main hall also played host to informative and challenging keynote presentations, such as FPA president and CEO Alison Keane outlining the current and upcoming complex legislative landscape around plastic packaging and ERP across the US. A customer panel featured Sonoco and WestRock and saw those companies outline their respective experiences with ePS and its workflow software, and their hopes and aspirations for future developments.
ePS also took the opportunity to introduce a Women's Networking Lunch at Connect for the first time. This saw participants from across print, and both female and male, hear insights from an all-female leadership panel before breaking off for a working lunch to identify and suggest how and where young women can not only be attracted into print but kept in the industry's many and varied roles and elevated through a successful and rewarding career.
Concluding, Mr Matsliach said, 'We are committed to being the right partner and hopefully our first year as an independent company demonstrated to the industry how serious we are about the future of the business, our industry and how passionate we are about driving value to our customers. We stay committed to translating over 30 years of deep industry experience into actionable value. It's insufficient in my mind just to have the knowledge and have good technology. How do we translate that into actionable value for customers every week, every month, every year? We are committed to investing in and driving an innovative product roadmap, one that is worthy of the current investments you are making with us.
'We are committed to expanding our value proposition, organically and through acquisitions in order to provide more breadth, more depth and many more ecosystem partners. Our passion is always about unlocking business value and looking for ways where technology can help evolve businesses.'