Grace Label to take Domino N730i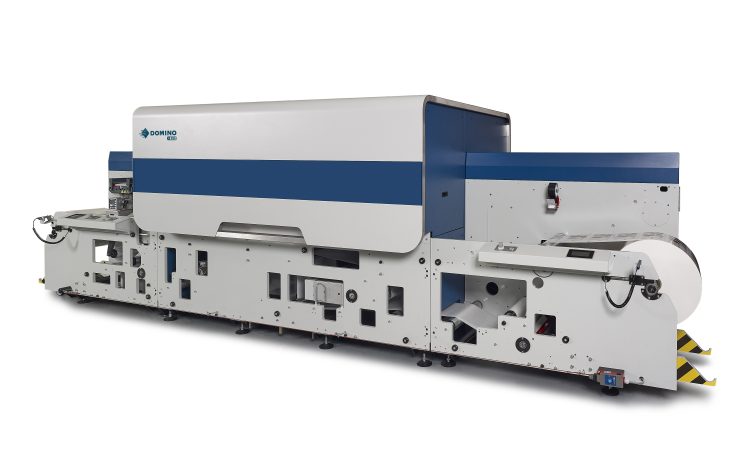 Grace Label is to be the first converter in North America to install a Domino N730i UV inkjet digital label press.
Founded in 1975, Grace Label is a full–service narrow web label and packaging converter located in Des Moines, Iowa, offering pressure-sensitive, roll-fed, and cut and stack labels, as well as shrink sleeves, pouches, flexible packaging and more.
First introduced in the midst of the Covid-19 crisis, N730 finally made its worldwide, in-person debut in September during Labelexpo Americas 2022. Grace Label decided at the trade show that it wanted that press.
As an existing Domino customer having installed an N610i three and a half years ago, Grace Label was aware of the capability of inkjet to benefit the company, such as during the challenges of the coronavirus pandemic and mote recent supply chain challenges.
Steve Grace, president of Grace Label, said, 'We saw an increase in business, we saw an increase in demand. Our customers got busier. The Domino was able to turn around orders we had not had before. We were able to develop new customers. And right now during the supply chain disruption, the Domino is fantastic because we are able to put something on there, move it over from our flexo presses and we are able to adapt and keep our customers rolling.'
Mr Grace further noted that digital has been the fastest growing segment of Grace Label's business, necessitating further investment. 'We have come to the point where we needed additional capacity to continue the growth,' he said.
Mr Grace continued, 'Ever since we started looking seriously at digital, Domino stood out in terms of reputation, service and support. Our relationship started with an old friend, Chuck Stone, and expanded to the entire Domino team. The service over the years has been great, the performance of the Domino press has absolutely delivered the results we were hoping to achieve. In today's world, when you find the right partner, you stick with them.
'When we saw the N730i at Labelexpo we knew that it had the features we needed not only to expand our digital production capacity, but the added capabilities that come with the more rugged frame, servo drive and most importantly the 1200 dpi print engine. The more modular and robust framework will make it more adaptable as our digital needs continue to evolve.'
The Domino N730i UV inkjet digital label press features 1200dpi Brother Bitstar printhead technology. The press is configurable in up to seven colours. Automated roll lifts are standard at the unwind and rewind, supporting media rolls up to one metre in diameter. An optional flexo priming station (pre-digital) optimises print quality on challenging media types, and an optional flexo station (post-digital) provides for varnishing, brand spot colours or cost-effective flood white for shrink sleeve applications.  These flexo stations can be retrofittedas business needs change.
'My sales team is excited and already telling customers and prospects about our new digital capabilities,' said Mr Grace. 'Based on the feedback I am getting, I don't think we can get it running too soon.
'We know that the Domino N730i will help us continue to manage our business through this uncertain supply chain and inflationary economy and will guide our business to the next level, positioning us well for the future.'