Durst honours RSC users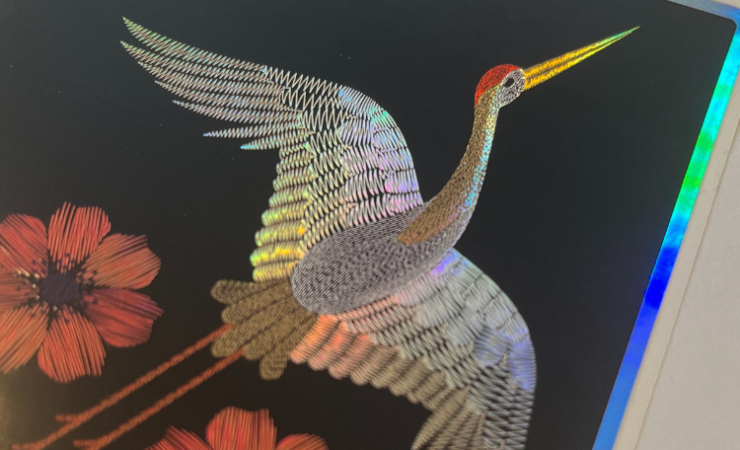 The Flying Crane – Embroidery Label entry from Shanghai Yingcai Printing took top spot in the 100% RSC category
Durst has detailed those companies using its RSC inkjet digital printing technology to produce standout labels and packaging, with Chinese customers taking home all three prizes in its latest RSC Label Masters Awards.
The awards are an opportunity for Durst's customers from around the world to put forward work they deem to be of the highest quality and indicative of what the company's technology, developments and roadmap allows to be produced using inkjet digital printing.
Three categories were open for entries – 100% RSC, Combination Print and Innovation. With entries from around the world, the judges – which included Digital Labels & Packaging editor David Pittman – were tasked with judging and evaluating each entry on various criteria, from their technical execution and design, to their visual appearance and impact.
Chinese customers dominated this year's awards, with Shanghai Yingcai Printing, Shandong Golden Realm Industrial and Nanning Jiecheng Label claiming top spot in the 100% RSC, Combination Print and Innovation categories, respectively.
For its Flying Crane – Embroidery Label entry (pictured, left) into the 100% RSC category, the BOPP label was noted by Shanghai Yingcai Printing as paying tribute to traditional Chinese handicrafts with a design that expresses longevity and prosperity. As noted on the entry form digital printing was used to create the texture of embroidery on the printed label, with 'fine lines' and 'good colour' further bringing the features of embroidery to life.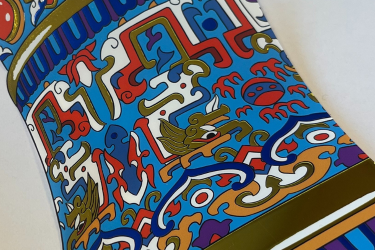 Shandong Golden Realm Industrial's Cloisonne label (pictured, right) brought together Durst's RSC technology with hot foil to create, 'a design concept based on the porcelain of China,' which went on to win the Combination Print category. Firstly, 1200dpi inkjet digital printing was used to print all the elements of the complicated design, which mimicked the ancient Cloisonné technique for decorating metalwork objects with coloured material held in place or separated by metal strips or wire, normally of gold. To replicate this, blue and yellow hot foils were used to draw out elements of the design, with a digital varnish used on other areas. This was all produced on optical grade PET.
Nanning Jiecheng Label won with Longevity Spring (pictured, left) in the Innovation category. This label utilised overprinting capability within the RSC platform and embossing to create a label that scored highly with the judges for its technical execution and design, including fine lines and details, drop placement, gradients, tones, doming effect and metallic elements. The label was produced on a gloss silver substrate.
As well as the winners, Durst has named Clever Systemtechnik and The Label Makers as the second and third placed entries in the 100% RSC category, with RS Druk and Color Press second and third in Combination Print, and Shandong Golden Realm and RS Druk second and third in the Innovation category.
Martin Leitner, product manager for label and flexible packaging at Durst, said, 'The Tau RSC is a true game changer for us as a company and for all our customers. With that in mind, we challenged them to take part in the Durst RSC Label Masters Awards. There were an impressive number of entries. They were all truly inspiring, making it a difficult task for the judges to choose the winners.'
He continued, 'Since the Durst Tau RSC platform was launched just over five years ago, we have achieved over 300 installations worldwide in less than five years. This demonstrates that our printing solutions have been very well received by the market. We are looking forward to the future despite these uncertain times for everybody.'