ModTek doubles down on digital with Dantex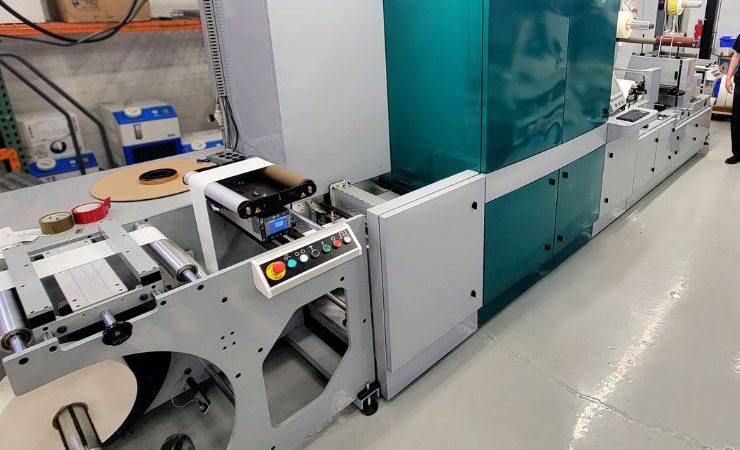 PicoJet is built on a modular platform to incorporate a wide range of inline finishing options
New Jersey, US-based label manufacturer ModTek has added a Dantex PicoJet 330S hybrid label press to its production mix.
ModTek installed a Dantex PicoColour digital label press in November 2020. Following the successful integration of this press into its operations, ModTek has returned to Dantex for its next digital investment. The new press was installed in April 2022.
The PicoJet 330S is a reel-to-reel press with a print width of 330mm and runs at up to 75m/min. The inkjet engine be custom configured either as CMYK, CMYK+W, and/or additional colours stations. PicoJet presses are built on a modular platform to incorporate a wide range of inline finishing options, including flexo stations, die-cutting stations, slitting, edge trim, cold foil, and lamination. Other options are variable data, corona treater, mark sensor, and Dantex's signature super white.
Shawn Borman, owner at ModTek, said, 'The PicoColour is an excellent entry-level ma-chine, and it does everything that we need. The inks are highly durable, and the press is very user-friendly. We did, however, quickly realise that we needed more throughput. The PicoJet 330S is significantly more comprehensive, three times the speed of the PicoColour, and has superb print quality. In certain areas, we can complete 40 hours of work from the PicoColour in about 10 hours on the PicoJet.'
Having the PicoJet installed for a few months, ModTek is quickly seeing the advantages of having a fully integrated hybrid digital label press to rival the capabilities of its con-ventional presses, in many cases exceeding their capabilities. Mr Borman cited a com-plex label that needed to be printed on a metallised substrate.
'An opaque white footprint with gradients would have been extremely challenging to produce using conventional screening. However, we were able to simply run the client file without any significant prepress adjustments on our PicoJet. Another plus is having a flexo station on our PicoJet, which enables us to transition from flexo to digital with-out changing substrates or constructions. We can also use unsupported laminations, which save money and is much quieter than a traditional self-wound lamination. Finally, the flexibility of adding to this press in the future is key – this is a true label press and fully modular.'
Dantex Group CEO Ben Danon said, 'ModTek trusted Dantex to help the company start its digital journey with the excellent PicoColour and then had the confidence in us to help it raise the bar to our flagship printing press.'