Package printing pillars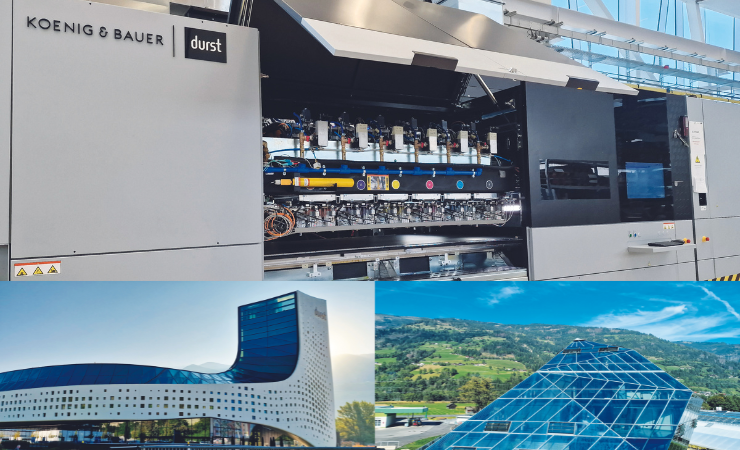 Durst's hardware (top) is as impressive as its locations
Equipment suppliers in digital packaging argue passionately about the merits of their kit against competitors, in terms of productivity, quality and total cost of ownership. These arguments have merit, as there are good and bad points across the equipment on the market.
What is beyond any doubt though, is the supplier with the most beautiful buildings at its production locations. It is Durst, with fabulous architecture situated against the stunning background of the Tyrol in Lienz and Brixen.
Digital Labels & Packaging took the opportunity to visit both locations to find out Durst's progress in digital label and package printing. The company's headquarters is in Brixen, north-east Italy, where the inkjet label press is developed. Durst has sold some 450 of the narrow web Tau inkjet machines, including hybrid flexo-inkjet machines developed jointly with Omet. Durst continues to advance its narrow web product portfolio, such as with the addition of wider press widths and a UV LED inkjet for the Tau RSC family.
Labels and flexible packaging product manager Martin Leitner highlights the recent development of Hawk Eye, a system that automates print quality monitoring, saying, 'Hawk Eye is a game-changer for the digital printing industry. This technology will greatly increase productivity and efficiency, but, more importantly, it will reduce waste and the carbon footprint of customers.'
The scanner and control software corrects print defects including missing nozzles, in real time. If a nozzle malfunctions, the system identifies problems at full speed and neighbouring nozzles automatically compensate with larger drops. Operators do not need take action to ensure that print quality is maintained.
As alluded to previously, other developments include the wider Tau 510 RSCi press at 510mm with new automation features and twin white capability, allowing high opacity white at 80m/min. The new UV LED inks help significantly reduce energy consumption while eliminating UV bulb and reflector changes.
Durst is also expanding its partnership with Omet, the Italian manufacturer of flexo presses and which has been selling the XJet hybrid modular press platform. Durst's sales and service structure will now market and sell the solutions, whilst a joint product roadmap will speed up development for the next generation of presses. The future Durst portfolio in the label and packaging segment will be expanded with integrated hybrid printing systems, which the companies will jointly develop and manufacture.
Durst has also been in the news for its acquisitions. In 2021, it bought Vanguard to widen the range of inkjet equipment in display and packaging, while the acquisition of Aleph in September 2023 pushes the company's expertise in textiles forward. Vanguard broadened the Durst product mix with lower cost flatbed inkjet printers and is selling a lot of them. They are used for a variety of applications, with some users offering online packaging. One such is Einfach Etiketten, based in Hilden near Dusseldorf, Germany, which offers online labels and corrugated boxes. It has a range of design templates for carriers and e-commerce boxes, printing die-cut blanks on a VK300D-HS flatbed inkjet with the powerful vacuum bed holding down the pre-cut and creased blanks. While primarily a label printing company, the Vanguard press means Einfach Etiketten can sell boxes to existing and new customers.
Lienz is about 100km to the east of Brixen, in Austria but also in the Tyrol region. There, the joint venture between Durst and Koenig & Bauer is developing Delta SPC 130 single-pass inkjet presses for corrugated post-print applications.
There are two versions: the standard SPC 130 and a lower specification entry-level version, the SPC 130 Eco+. The platform is modular, featuring a non-crush top feeder into an integrated cleaning station that also aligns boards. There is a damaged sheet detector with automatic ejection; good sheets pass into an inkjet priming station to apply primer only where required. Durst says this means that varnishing is not needed. The vacuum feed takes the sheet into the print unit where there are six printbars that will be CMYK with two of orange, green or violet to widen the colour gamut. Optional inspection equipment can be added to detect print faults and monitor quality, then the print is dried in a hybrid drying station featuring both infrared/hot air and final UV cure before a cooling zone and delivery into a stacker.
The Durst ink is a water/UV pigmented formulation with water as the diluent eliminating low viscosity monomers. Secondary food packaging has been offered since the introduction of the press, now there is a version for primary food packs. Both inks are based on the same formula but manufactured differently. The primary food inks are made to GMP standards and comply with the Swiss ordinance, EuPIA guidelines and the Nestlé Guidance Note on Packaging Inks.
Formulations are optimised for corrugated board and many of the samples produced by the press were very good. Throw distance for the corrugated machine is around 2.5mm, more than the 0.5mm in the VariJET 106 hybrid press for cartons. The control station features an adjustable work surface to examine a 2.8 x 1.3m sheet under standard D50/65 lighting. There are two large 55in monitors, one taking feeds from six cameras at key positions on the press, the other linked to a microscope or other measuring/profiling tools, showing dot formation and registration. A 32in touchscreen is the primary control. Ergonomic touches include a pull-out leather seat arm for operators, six lockable lockers that can include mobile phone chargers and – a feature I have never seen before – an integrated fridge for water bottles.
Mattias Krautgasser, product manager, corrugated segment at Koenig & Bauer Durst, explains the rationale for the machine as, 'Converters needing 5-10 million sqm annually will be the ideal sites for the SPC 130, which has 95% availability. The record output from a machine is 93,000sqm a day, 1.25 million sqm per month, so the potential for 15 million sqm annually. In 2023 we launched 1000dpi as part of our continuous quality enhancements to help customers. The improvements of fine details and text sharpness is a significant step forward for corrugated packaging, opening new applications up for converters. Printing at 1000dpi provides optimisation to litho quality requirements.'
The development will be available for all existing presses as an upgrade. Further enhancements are planned for drupa 2024. While all details were not shared there will be a digital white. There are now 11 SPC 130s in operation out in the field, with the first in the UK at Schumacher's plant in Birmingham due to come on stream shortly. The last four sales were into North America and there is a good pipeline for future prospects – currently there is an eight-month lead time for a new order.
The hardware is underpinned by software, with Durst developing a range of modules to support the use of its digital presses 'from pixel to output'. The software portfolio is well beyond just print device control, rather aimed at automating every aspect of print business models from quote to delivery. Durst provides storefront web-to-print solutions, pre[1]press and workflow software to simplify and automate production tasks. To improve business performance, there is analytic software designed to handle all production data and boost efficiency as Durst provides related professional services, such as integration, consulting and training to turn the products into business solutions. They help to set up production environments tailored to customer needs.
Durst, and the joint venture with Koenig & Bauer, are important suppliers in digital labels and packaging; continuing to develop great equipment and understand the needs of customers, transforming their business models and offering the necessary support to be successful.
This article was first published in the October 2023 issue of Digital Labels & Packaging, which can be read online here; register here to receive the magazine