Digital print takes centre stage at Packaging Innovations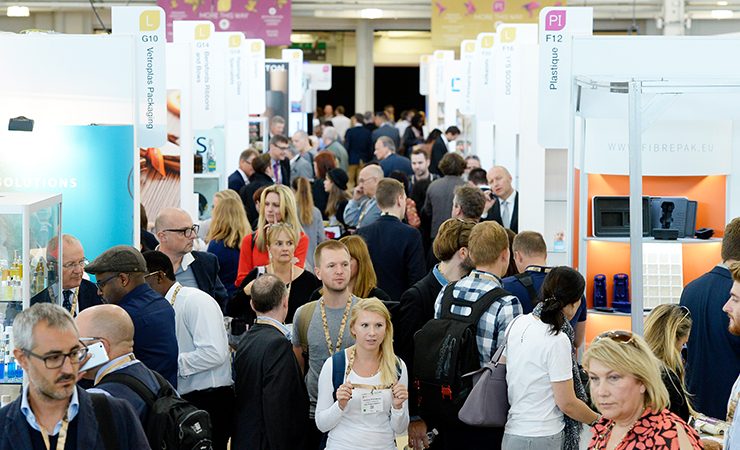 Packaging Innovations & Empack returns to Birmingham, UK in February 2023
For many, Packaging Innovations 2020 was the last time the packaging industry was able to meet in person, in one location before the Covid-19 pandemic took hold of the world.
Fast-forward two years, and much has changed, not least for the packaging industry. Consumer shopping behaviours have evolved, e-commerce has skyrocketed, new applications have emerged, and new technologies have been introduced to cater to them. And that accounts for just a small portion of the overall supply chain.
When Packaging Innovations returns on 25-26 May, 2022, the show floor and associated educational elements will reflect this, and go some way towards helping the packaging industry consider and comprehend its future.
Digital concepts
This will lean heavily on technology, such as the new Truepress Pac 830F from Screen Europe (J30). This was introduced last year as an industrial water-based inkjet digital press for producing flexible packaging, such as PET and BOPP constructions.
Handling substrates 830mm wide at speeds up to 75m/min, this press offers a print resolution of 1200dpi using CMYK+W inks that conform to relevant food safety regulations. These features allow the Truepress Pac 830F to deliver a range of colour expressions important for the food packaging industry.
At the other end of the scale, the Epson (B56) ColorWorks C4000E is a compact, full colour printer. It comes with either gloss or matte black ink to create crisp, sharp black text and rich images on a range of media.
Individual 50cl pigment ink cartridges create fast-drying, highly detailed labels that are smudge, water and fade resistant. It is available compatible with ESC Label, Linux and Mac OS. A new software development kit for iOS and Android allows tablet printing. An optional Wi-Fi dongle gives the capability to print from anywhere at any time.
Other digital-centric suppliers exhibiting include AM Labels (J12), AstroNova (C70), Durst (A49) and OKI Europe (G64). Kurz (H40), Humidity Solutions (K86), Sun Chemical (G52), and Vivid Laminating Technologies (C75) will also be of interest to those involved with digital. Specifically, Sun Chemical has recently expanded its edible ink range with the launch of FSR, developed to meet the specific needs of the food industry and verified for printing directly onto food including baked goods.
Created to deliver colour and sharpness, while also complying with the highest levels of quality and safety regulations, FSR inks use synthetic colourants suitable for use for direct food printing using mid-viscosity range piezo printheads, such as Ricoh's GH2220 digital printhead. This completes a series of digital edible inks, complementing the existing low and high viscosity FSE and FSS lines, to enable food decoration with a full range of digital printhead technologies.
The launch supports the current trend of food customisation, presenting brands, from small bakeries to industrial production for leading brands, with the opportunity to add unique value and visual appeal to products.
Sergio Molto, marketing and business development manager, food and pharma inks at Sun Chemical, explains, 'We are seeing substantial growth in the personalised packaging market, with the latest trend being toward customisation of the food product itself – particularly baked goods. This development marks a clear step forward for adding significant value within this industry for brands and consumers alike.' On the software side, Cerm (A74), GMG Color (D32) and Hybrid Software (A74) offer systems tailored to the needs of digital label and packaging printers.
The capability of Cerm's MIS now extends to more of the packaging industry, with the introduction of a complete and scalable end-to-end option for converters in the folding carton and rigid boxes business. Its Packaging software provides detailed instructions to streamline every step of packaging production, for example, additional software modules for complete support of the shape design and nested imposition.
GMG will be providing live and interactive proof and print demos at the show, run using a four-colour digital label printer. This will be used to showcase the company's GMG ColorServer, OpenColor, ColorServer Multicolor products for colour management and control. Hybrid Software has added new functionalities for its Packz and Stepz PDF editors to help converters elevate the productivity of their pre-press processes.
As an example, its license control system (LICOS) provides global license accessibility and flexibility to license holders from anywhere in the world, via a web-based control interface that allows them to be dynamically distributed for seasonal or cyclical demands. A barcode scanner readily detects barcodes in linework and images, and adapts them to match the artwork and printing conditions. Digital watermark elements are added to artwork using traceable barcodes to ensure brand integrity. In addition, Hybrid Software has now fully integrated the iC3D software suite into its products, filling a gap in its technology portfolio for visualisation of packaging designs in 3D. iC3D generates photorealistic 3D virtual mock-ups on the fly, allowing cartons, labels, flexibles, bottles, shrink sleeves, point-of-sale displays, and in-store visualisation to be accurately rendered for design verification and e-commerce applications.
Digital expertise
As well as the hardware vendors, Packaging Innovations 2022 will host a number of digital converter companies, who are ideally placed to speak with brands and retailers on their needs, and where digital could and can work for them.
Amongst them are Abbey Labels (C78), Alexir Packaging (D72), Asteria Group (J102), Bristol Labels (K84), Coveris (J58), Durham Box (F70), Foxpak Flexibles (M44), Harkwell (E122), The Label Makers (E52), Mercian Labels (G62), Olympus Print Group (A82) and Skanem (B60). Each use digital in one way or another to benefit brands and their consumer customers, whether they want labels, flexibles packaging or corrugated boxes. Coveris, as the parent of Amberley Labels, has access to MPS hybrid and HP Indigo digital technologies to print labels, as well as a Kurz DM-Jetliner for adding high quality embellishments to printed output.
As a pioneer in digital printing of flexible packaging, Foxpak has more than two decades of experience in the industry to call upon. This is augmented by its recent takeover by Sealed Air, whose president and CEO Ted Doheny says, 'Foxpak will build on our digital packaging solutions where graphic design and digital printing are key areas of value creation. Foxpak is recognised as a customer-centric, digital printing pioneer. Together we will accelerate our digital future with innovations in smart packaging for leading brands around the world.'
Another major sale/acquisition in the flexible packaging space has been that of CS Labels/Pouches to Asteria Group. CS Labels is further pioneer in the use of digital for flexible packaging, being one of the first in the world to successfully commercialise the use of Xeikon's dry toner press technology for this application.
Formally entering the flexible packaging space is Harkwell, and which is bringing to Packaging Innovations its new corporate strategy and brand identity, as well as the various sustainable packaging options it offers to customers, such PE materials suitable for kerbside recycling and compostable constructions. The Label Makers will similarly display its wide range of sustainable label options, including those for recyclable bottles.
Meanwhile, Durham Box's use of EFI's Nozomi inkjet digital printing platform to produce digitally printed corrugated presents myriad benefits to brands that are looking to capitalise on the rise in demand for e-commerce services. Speaking to Digital Labels & Packaging, Durham Box managing director Dan Morris notes, 'With the journey we were on, this really was a critical investment as it was intended to shape the future of the business for many years to come.'
He continues, 'With the experience we now have, our focus is very much on extracting value from this asset and positioning ourselves so we are well placed and ready to harness the next significant development that comes along.'
Renan Joel, divisional director at Easyfairs, the organiser of Packaging Innovations and Empack 2022, comments, 'After two years without our Birmingham show, we are excited to bring the industry back together again in person. We have a wide range of label and print exhibitors attending our show this year as they prepare to demonstrate the latest the sector has to offer.