Warren Packaging installs Domino N610i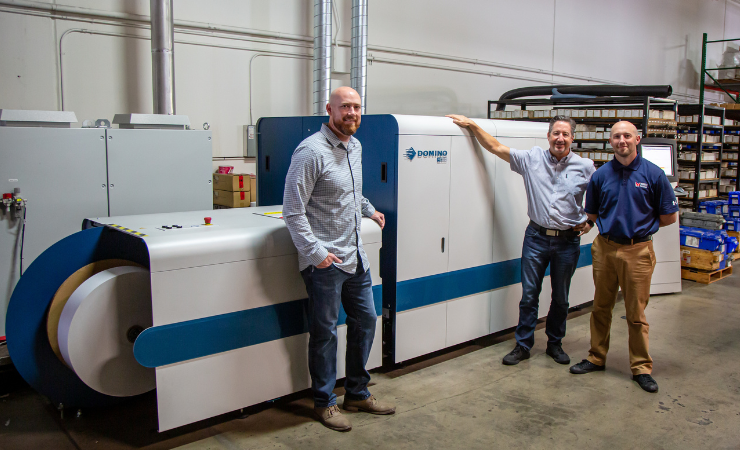 Pictured (from left): Mike Dittenber, Phil Warren and Phil Warren Jr. with the company's Domino N610i
US converter Warren Packaging has installed a Domino N610i UV inkjet digital label press, helping the California-based company maximise production and profitability whilst minimising costs.   
Warren Packaging is a family-owned and operated company located in Ontario, California and has been in business since 1999. It provides custom labels, corrugated boxes and folding cartons. It serves myriad industries with multiple applications, such as bottles, clamshells, storage containers, boxes, bags, and produce PLUs for produce, beef jerky, meat, storage, cleaning products, chocolates, syrup, pastries/baked goods, laundry soap, and more. Over the past several years, Warren Packaging has continuously increased its facility size and capabilities to manage growing volumes and demand, while developing new and innovative packaging for current and future customers. It traditionally produces printed products using flexo, with the inkjet press added in summer 2021.
Company owner and president Phil Warren commented, 'We believe that a great product deserves great packaging, and that is what we consistently strive to provide. We constantly continue to improve our facility and manufacturing practices in order to provide the highest quality labels, corrugated boxes, and folding cartons.'
Mike Dittenber, business development manager at Warren Packaging, added, 'The most important thing about Warren Packaging is our focus on packaging development and continuous improvement in all three areas that we specialize in: Labels, Corrugated Boxes, and Folding Cartons. We will consistently be a supplier with the ability to offer high quality designs to finished products at competitive pricing."
Of the decision to introduce digital to its production mix, Phil Warren Jr., vice president at Warren Packaging, said, 'The first driver would be flexibility to run various quantities and multiple SKU items with the best quality possible. Another is the savings we are able to pass onto our customers for new items or changes to existing items. Finally, with the new technology of digital printing in both the label and box industry, we have made it a point to maintain our position as a leader in new development and technology in the industry; to be able to offer the best options to our customers in relation to both quality as well as pricing.'
As well as allowing Warren Packaging to move over 30% of its flexo work to inkjet – allowing more work to be produced in a shorter time span – the Domino N610i has given the company the means to pursue new projects that were previously not competitive to quote on due to press efficiency, tooling costs, and changeover complications.
Mr Warren Jr. continued, 'By having the Domino, we have been able to increase output by moving jobs to this press that we previously ran flexo. This has been a huge asset for us and our customers. It has also allowed us to produce quicker turnaround for our customers, while providing us less costs and better profitability. We've seen an increase in the bottom line due to efficiency of this press, and the ability to hit the silver and clear market that we had not be able to before we had the Domino.
'We had realised after looking through our jobs that a digital press would be a huge asset to our company. Many of our jobs are in the 5000-20,000ft run lengths with multiple versions, as well as constant art changes.'