Aniflex updates digital fleet with Xeikon inkjet press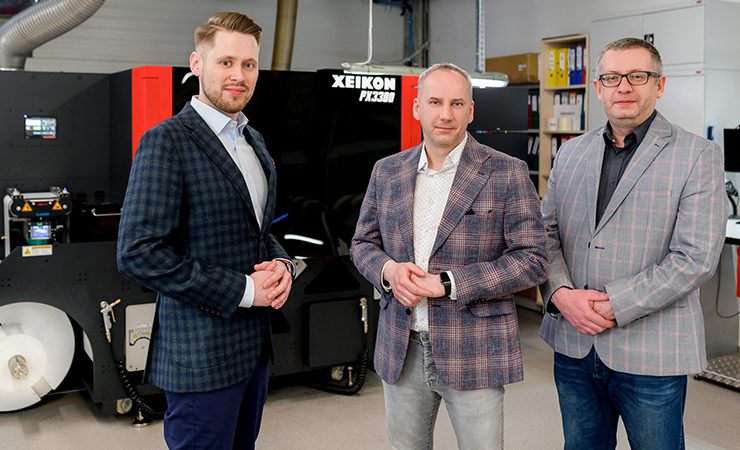 Pictured (from left): Michał Kuczkowski, sales manager, labels and packaging, Xeikon; Maciej Wojtaszek, co-owner, Aniflex; and Łukasz Smok, head of production, Aniflex
Aniflex Głowacka Wojtaszek has invested in a five-colour Xeikon PX3300 UV inkjet digital press, as the Polish printer looks to take its production of labels to 'the next level'.
Established in 2003 and based in Tomaszów Mazowiecki, Aniflex has invested significantly in organisational, production and technological advances over the years, and today, offers shrink sleeves and flexible packaging, in addition to self-adhesive labels. An emphasis is also placed on expanding the company's product offering with options that meet current trends and market needs, such as self-adhesive labels printed on new eco materials and packaging featuring augmented reality.
Aniflex was also an early adopter of UV inkjet printing for labels. The new Xeikon Panther PX3300 replaces an older inkjet machine, which had been in use at the Tomaszów plant for many years. The Xeikon press was chosen to modernise production and allow Aniflex to increase print quality, among many other benefits.
Maciej Wojtaszek, co-owner at Aniflex, said, 'The investment in the new Xeikon press has significantly increased the technological capacity of our plant and allowed us to exploit the sales potential for low- and medium-volume orders, as well as helped us cut delivery time – all of which enable us to stay competitive.'
In addition, Aniflex has identified key specific benefits of its latest investment that will notably benefit the company. These include repeatable high print quality, the ability to produce multiple SKUs quickly, and the production of durable and abrasion-resistant labels with high gloss. The ability to apply two layers of white ink is also highlighted, for producing tactile and haptic effects inline.