Digital packaging 'paying off' for Koenig & Bauer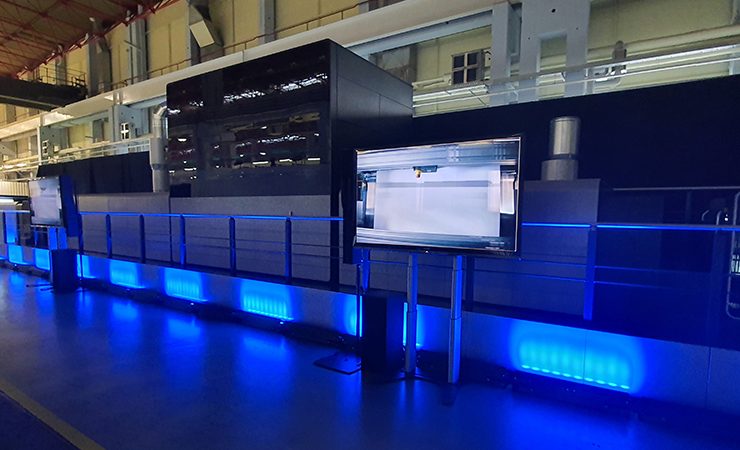 At 28m long, 4.1m high and 5.9m wide, and weighing in at 21 tonnes, VariJET 106 is a substantial piece of kit
With Koenig & Bauer reporting revenue up 8.5% year-on-year in 2021, company CEO Dr Andreas Pleßke stated, 'Our decision to focus on growth markets, such as conventional and digital packaging printing, is paying off.'
At the end of December 2021, Koenig & Bauer had an order backlog worth €807 million, reflecting a 32.4% year-on-year increase in customer orders for printing presses and services. Accordingly, order intake came to €1.3 billion, up from €974.7 million in the previous year. Revenue was €1.2 billion.
Commenting on the company's performance last year, Dr Pleßke said, '2021 was both a positive and a challenging year for Koenig & Bauer, but together we managed to achieve our annual revenue forecast and to exceed our EBIT target. In addition, we outperformed the industry as a whole. Despite all due caution given the still very uncertain economic outlook, we take this as a sign that we have done a very good job in recent years and that our decision to focus on growth markets, such as conventional and digital packaging printing, is paying off.'
This includes equipment such as RotaJET and VariJET 106. Whilst RotaJET presses have largely been targeted at the décor sector, late last year two high-performance digital printing presses were sold into the packaging market. VariJET 106 debuted in mid-October as a system that combines Durst's inkjet digital printing expertise with the proven modules of Koenig & Bauer's Rapida platform.