Koenig & Bauer makes packaging breakthrough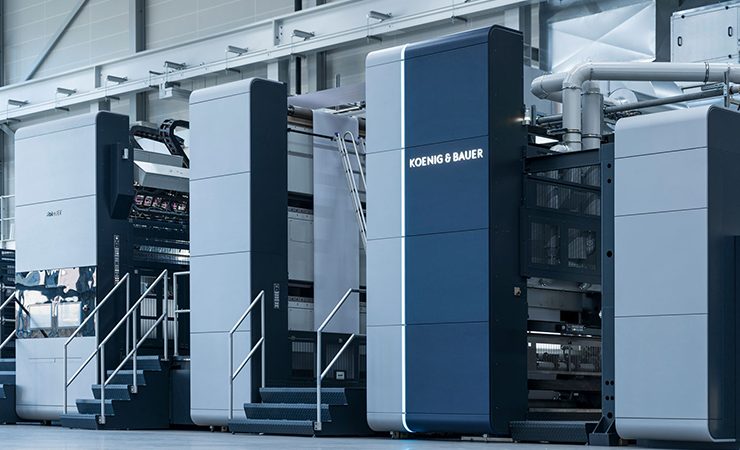 Example of a RotaJET for digital packaging printing
Koenig & Bauer has confirmed the sale of another RotaJET digital press to an unnamed packaging printer, with the system to be delivered next year and commissioned in 2023.
RotaJET is an inkjet platform able to print on all sorts of substrate, from lightweight paper to solid board. Packaging, decors, posters, patient information leaflets, folding cartons, books or even coffee bags are all highlighted as examples of the variety of work that can be produced using a RotaJET press.
With RotaJET, Koenig & Bauer stated that it has achieved its 'breakthrough into the packaging segment', alongside other print verticals where its digital print systems are already in use. Three RotaJET 225 presses started up in the decor segment this year, for example. These build on the company's other sales successes in the decor segment, where several RotaJET installations have been commissioned successfully. In total, more than 20 industrial single-pass digital presses from Koenig & Bauer, including HP PageWide T1190 and T1100 models, with web widths from 1.38-2.8m are currently already in use, or have been sold and are awaiting installation.  
Christoph Müller, member of the executive board at Koenig & Bauer, said, 'This means we have now arrived in almost all-important market segments for digital print. Our RotaJET is one of a kind, and one of the most productive digital presses on the market anywhere in the world.'
Whilst commercial applications have largely been where RotaJET systems have been deployed thus far, Koenig & Bauer has its eyes on other lucrative markets, such as packaging. For example, digital printing of films with water-based inks is another segment in which Koenig & Bauer is currently positioning the RotaJET, in partnership with a globally active partner. The production start on this press is scheduled for 2022.
Mr Müller continued, 'A glance across supermarket shelves suffices to grasp the sheer range of different types of packaging. Sustainability, time-to-market and increasingly small runs, paired with a growing number of variants, are the customer demands that we are addressing with RotaJET.'