Limited edition paint tins launched using digital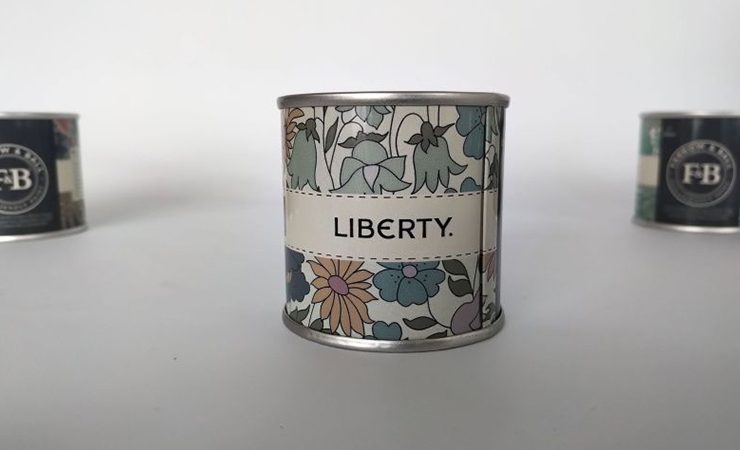 Luxury homeware brand Liberty and paint manufacturer Farrow & Ball have collaborated to launch a range of limited-edition tin designs, printed digitally on a B1 Fujifilm Acuity
Luxury homeware brand Liberty and paint manufacturer Farrow & Ball have collaborated to launch a range of limited-edition tin designs, printed using a Fujifilm Acuity B1 digital press installed at Tinmasters.
Each tin design, comprising multiple colours, had to exactly match Farrow & Ball's brand colours, as well as the shades and complex designs of textile fabrics manufactured by Liberty. Tin specialist William Say & Co Ltd manufactures the 57mm wide lever lid tins, which can hold 100ml of paint, at its site in Bermondsey, London. William Say & Co's supplier, Tinmasters, printed the complex designs with its Acuity B1 press.
The colour adjustment process was witnessed by brand managers from Liberty and Farrow & Ball, with more than 70 fine-tune adjustments of 25 colours made in less than four hours.
Since early October, 2021, all six designs of the paint-filled tins have been showcased in Liberty stores alongside its textile fabrics. The tins are also being sold in Farrow & Ball showrooms, as well as on its website.
Stuart Wilkinson, sales and marketing director at William Say & Co, said, 'This is a milestone for both William Say & Co and the industry as a whole. Having personally been involved in the development stages over the last two years doing various trials and tests with Fujifilm, we have been extremely happy to be able to use this new digital technology in order to successfully deliver such a complex print project for our customer Farrow & Ball. I think everyone will agree that these new tins look absolutely fantastic.'
Tinmasters CEO Richard O'Neill said, 'There are a number of factors that would have been very challenging from a lithographic point of view. The repeat runs on this project are likely to be 200 sheets with six different designs on each sheet. The designs are not appropriate for composite printing where you buy a lithographic press and put different designs on one sheet to try and get the run lengths up. That was not what Liberty was doing here; they were randomising the designs, but with each design being very different with different colours.
'We composite printed complicated patterns, randomised on the sheets. It would have not only been expensive to print litho, but almost impossible to do what Liberty wanted because of the complexity of the patterns and the criticality of the colours.'
Oliver Mills, technical marketing specialist at Fujifilm Wide Format Inkjet Systems, said, 'We are delighted to see Fujifilm's inkjet technology helping to deliver yet another creative metal packaging project. Limited edition projects like this are simply not possible using lithographic technology and, until now, digital alternatives have lacked the necessary quality. Fujifilm's Acuity B1 digital inkjet press is redefining the creative possibilities for metal packaging companies and the brands they serve.'