Etipresse opts for Bobst inkjet press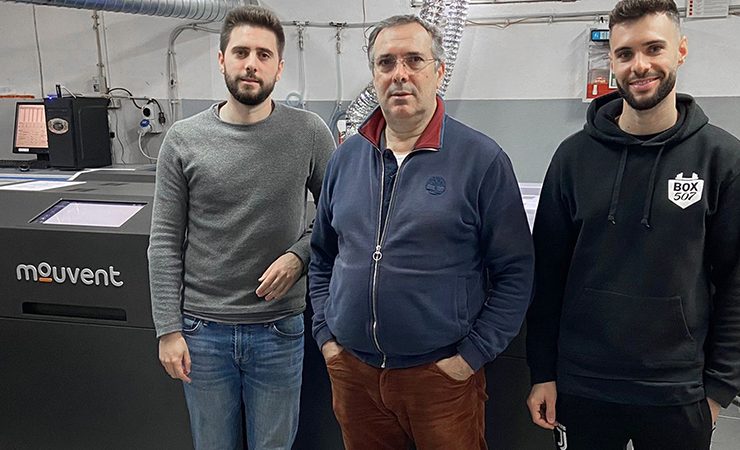 Family-owned Etipresse Indústria De Rótulos e Etiquetas was founded in 1994; pictured (from left) are Amarilio Junior, Amarílio Botas and Miguel Botas
Portuguese label printer Etipresse has installed a Mouvent LB701-UV inkjet press for in-house production of high-quality, short-run labels
Family-owned Etipresse Indústria De Rótulos e Etiquetas was founded in 1994 and is today led by owner and manager Amarílio Botas. The label company produces full-colour and plain labels for a broad range of customers in the food, dairy, cosmetics, pharma and numerous other sectors.  
Etipresses' first venture into inkjet label printing came in 2015 with investment in an 18m/min digital press with laser cutter, which allowed the company to take the first steps on a fast growth path by being able to deliver smaller job runs with a 'very healthy' profit margin.
Five years on, and with the global coronavirus pandemic bringing new challenges and opportunities to the business, Mr Botas sought the next development in the company's digital journey, and to bring in industrial inkjet printing with a higher speed and best-in-class quality. As an example, with an achievable speed of 70m/min, which is equal to an output of 75,000sqm of labels per month, the Bobst Mouvent LB701-UV is operating at nearly four times the printing speed of the company's first inkjet digital press.
The Bobst machine was singled out following a comprehensive evaluation of all the main inkjet technologies available.
Mr Botas said, 'After visiting the Bobst Competence Center in Mex, Switzerland to really get to know the digital inkjet machine and see it in action, it was not difficult to make the commitment to opt for this pres. The Bobst Mouvent LB701-UV is our biggest investment to date, and it was made with one very specific goal: to continue our digital modernisation, which we believe is the future of graphic arts.'
Installed in July 2021, the new Bobst press has already made a significant contribution to growth in turnover at Etipresse, which recorded an effective increase of 5% in 2021 taking it to almost €700,000.
Mr Botas continued, 'These last few months following the integration of the Bobst Mouvent LB701-UV have been very positive for Etipresse, both in terms of the equipment and its versatility, and in terms of the speed which has helped us respond to orders much faster.'
He continued, 'We are a small company where every square metre of floor space counts, so the size of the machine was a very important factor in the decision. Furthermore, the highly interactive system is very practical for the operator, which is another major advantage, because we need every piece of kit in our factory to be user-friendly and not take up valuable time.'
Having existing experience with inkjet, Mr Botas is confident the new press will set Etipresse up for further success in the future. 'Whereas many label printers have only begun to look seriously at inkjet recently, we invested early on and have many years of experience. Now the time has come for us to move forwards with a more powerful inkjet technology that provides more profitability and stability for the future, and that technology comes from Bobst.'