Roll Flex Label invests in Durst inkjet press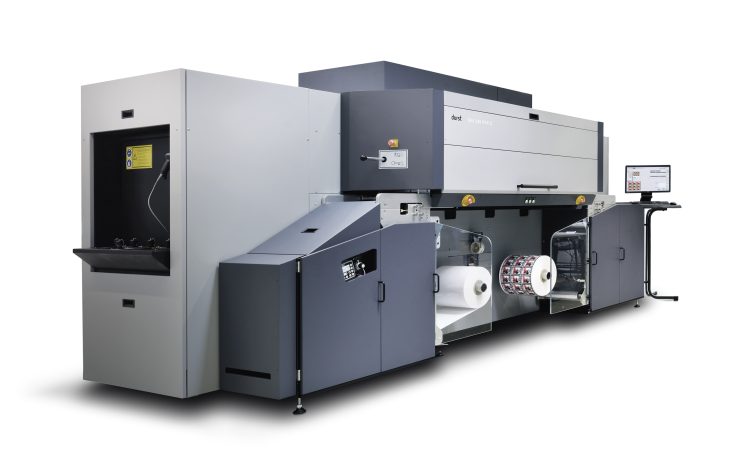 Roll Flex Label is a custom label producer that was established in 1983, and ought an updated digital printing option
Roll Flex Label Company has installed a Durst Tau 330 RSC E inkjet digital label press in order to help the business grow further.
Operating out of Hackensack, New Jersey, Roll Flex Label is a custom label producer that was established in 1983. Specialising in safety and warning, food and beverage, product, barcode, and coverup labels, Roll Flex has continued to grow and expand its offering over the last four decades.
To further this growth, the company sought an updated digital printing option, as company CEO Margaret Zink-Boyle explained. 'We started with a Primera digital press, which was fine in the beginning, but as our digital business increased, we needed something faster with better quality.'
The Durst Tau 330 RSC E operates at speeds of up to 170ft/min (upgradeable to 262ft/min), with a native 1200dpi native resolution and up to eight colors.
Ms Zink-Boyle continued, 'We did an extensive search and decided that the Durst Tau 330 RSC E fits all of our current needs. In the future, as our needs change, the RSC E can be upgraded to a higher speed, so the press can grow as we grow. 1200dpi was attractive to us as it provides the highest level of quality currently available that ensures we are competitive now and in the future, and we really felt Durst offered the best press on the market. We also heard such positive feedback from current users, which made our decision even easier.'
Steve Lynn, director, labels and packaging at Durst North America, said, 'We are delighted to welcome Roll Flex into the Durst family and look forward to a great partnership as it transforms the business with Durst 1200dpi inkjet production capabilities.'