Pipe marking specialist adds labels with digital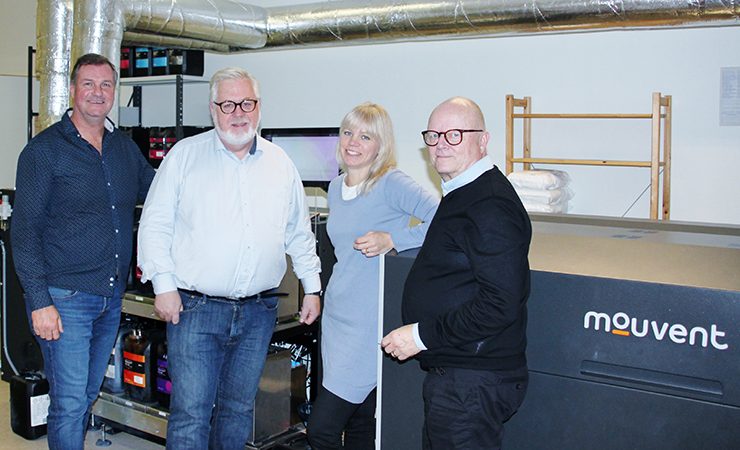 Pictured (from left): Nordisk Rörmärkning MD/owner Christian Kjellberg; Thomas Ejdemyr of Tec AB; Mouvent LB701-UV press operator Maria Westlindh; and Peter Wallen, Tec AB
Long-established pipe markings specialist, Nordisk Rörmärkning of Sweden, has added label printing to its competences with the help of Bobst's UV inkjet technology.
This has seen the company install a Mouvent LB701-UV inkjet press with six colours (CMYKOV) plus white, to optimise the production of pipe markings, decals, stickers and tapes at its factory in Älvängen, just north of Gothenburg. The UV inkjet digital press is at the heart of a separate label-focused entity, Nordic Printing Production, which operates alongside Nordisk Rörmärkning.
The Swedish family-run company, which has been in operation since 1984, decided last year to move from flexo to digital printing to increase flexibility and productivity. Inkjet was identified as a viable option due to the high durability of the inks, as these types of industrial products are often used in outdoor locations, and therefore subject to the harsh Scandinavian weather conditions. Following rigorous testing at Nordisk Rörmärkning using an in-house weather simulator, which subjects print to prolonged exposure of sun, wind and rain, the Bobst press' inks were shown to be suitable for the company's needs.
'We need highly durable inks because we offer a 10-year guarantee on our long-lasting products,' explained company owner and CEO Christian Kjellberg. 'After evaluating the capabilities of the Bobst Mouvent LB701-UV, which prints at up to 70m/min, I began to realise that not only was it the best choice for our current portfolio, but the high productivity meant that we would also have spare capacity. That got me thinking.'
With that in mind, the idea for a separate entity focused on label printing began to form, and Nordic Printing Production soon became a reality. The new digital press forms part of a 4.5 million SEK (€450,000) investment that also includes a finishing line from Grafotronic. For a company with a turnover of 12 million SEK (€1.2 million) that is a big sum of money, but Mr Kjellberg is certain that this new venture will be a success.
The digital press was acquired through Tec AB, Bobst's agent in Sweden, Tec AB. It has already taken over flexo work, as well as jobs that were previously printed using screen. Nordic Printing Production's digitally printed labels are sold via a website where customers can design their own labels, specify the substrate, size, and type of lamination. The labels are delivered on rolls or sheets ready for use in 3-5 days.
Mr Kjellberg, son of the company's founder Claes Kjellberg, said, 'Digital label printing may be a new business area for us, but the technical knowledge we have from making signs, decals, and stickers for many years means that we know all about substrates, inks and converting, plus we also have a lot of experience selling online.'
He continued, 'We now have the flexibility to produce any run length of labels that our customers need, and the print quality is fantastic. Gone are the days of paying high repro costs, waiting for flexo plates to be made, dealing with long set ups, and worrying over unwanted downtime. The possibilities with this high-productivity machine are great and we have only just scratched the surface.'
Mr Kjellberg concluded, 'With the LB701-UV from Bobst in-house, we can easily live up to our motto of 'Fast delivery, good service, satisfaction guarantee' and continue to grow the company safe in the knowledge that we have invested in the best-in-class UV inkjet press on the market.'