All4Labels adds Labelprint24 and Packaging Warehouse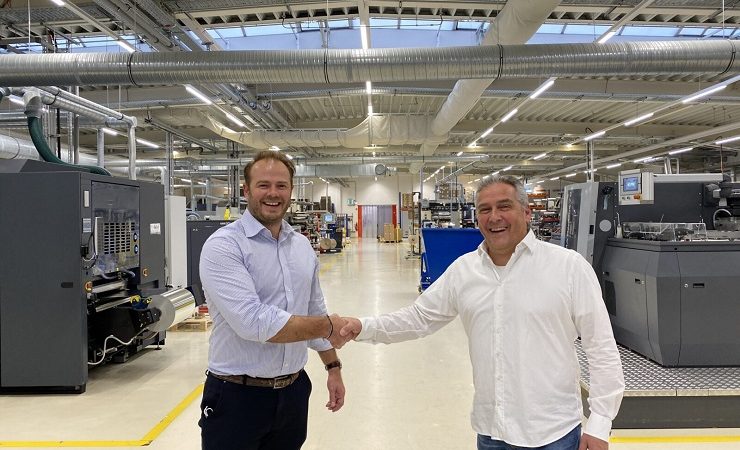 Adrian Tippenhauer (left) and Stefan Harder (right) shake on the deal that sees Labelprint24 and Packaging Warehouse become part of the All4Labels family
All4Labels has acquired online packaging businesses Labelprint24 and Packaging Warehouse, as it continues to action its global growth strategy.
Labeprint24 is a Germany-based manufacturer of labels and packaging, and also a vendor of packaging materials. Its labels and multilayer labels are used on food packaging from Spain to chemical containers in Germany, whilst Swiss companies put medicines in the folding cartons its produces, and French cosmetics companies stock their shelves with cosmetics packaging produced by Labelprint24.
Packaging Warehouse serves the pharmaceutical, food and cosmetics industries with packaging via its e-commerce platform. Packaging is sourced directly from the manufacturer, customisable and individually printed, and delivered within short delivery timeframes.
Stefan Harder, founder and owner of Labelprint24, will stay invested and will continue to manage this business and, using his many years of experience and market knowledge, will contribute to intensifying the position as well as the online activities of All4Labels.
He said, 'We are very pleased that by joining the All4Labels Group we have the opportunity to present ourselves on an international platform, to further expand our online business and to use commercial and technological synergies in the process. Together we can drive digitalisation and sustainability in the packaging sector and take the already existing structures to the next level with our innovative ideas, flexibility as well as high speed. We are sure that both our employees and business partners will benefit from this transaction.'
All4Labels identified the acquisition of Labelprint24 and Packaging Warehouse as, 'another important step in building a leading group of online packaging service providers.' In the future, the combined companies will offer an innovative platform and a wide range of first-class packaging options from which customers will benefit internationally.
Adrian Tippenhauer, All4Labels CEO, said, 'With this transaction, we are investing further in digitalisation and innovative solutions in the packaging sector. We are very pleased to welcome the Harder family and the entire staff of Labelprint24 and Packaging Warehouse as new partners and members of All4Labels. With Labelprint24's innovative business model – state-of-the-art digital printing technology with a high degree of automation and smart distribution via the internet – and All4Labels Group's extensive knowledge and infrastructure, we will continue our success story together. I would like to thank all parties involved for their valuable support in this transaction.'