First Labelfire lands in New Zealand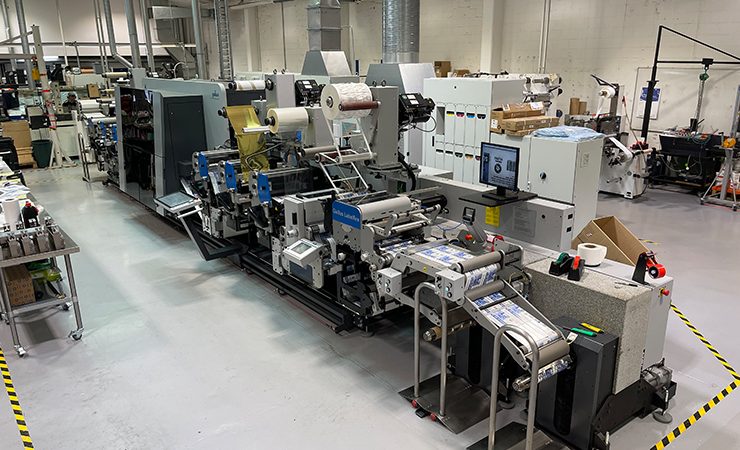 PhilStic has installed New Zealand's first Gallus Labelfire 340 UV inkjet digital label press
PhilStic has become the first company in New Zealand to own and operate a Gallus Labelfire 340 hybrid inkjet-flexo label press.
PhilStic is a family-owned company that recently celebrated four decades in business. The company was founded by Phil Fewings in 1981. Today, it is under the direction of its second generation, with Mr Fewings' daughters, Helen Fewings (managing director) and Rebecca Piek (director), leading the business.
The press installed at PhilStic has been configured according to the printer's requirements, and features two flexo stations and a cold foil unit upstream of the UV inkjet engine, followed by a further three flexo units, a station for foiling or lamination, and a varnishing unit with extended curing track.
Steve Holmes, operations manager at PhilStic, said, 'One of the key advantages of the Gallus Labelfire is that it's a true hybrid machine, so the whole label converting process can be handled in a single pass, with quick set-up, very fast run speeds and easy operation. Quite simply, it was by far the best solution to produce the quality and variety of products we need, productively and profitably – and our operators love it.'
The printer's production manager, Bart Mann, commented, 'We produce a huge range of products, with a special focus on booklet and multi-web labels for the chemical industry – just one of the sectors which requires extreme accuracy and precision processing.
'The Gallus applies the ink directly to the substrate, with no mixing or need for additional calibration, and the Heidelberg ink set is fantastic for light fastness and longevity. That's really important, particularly for some labels which are used on things like chemical drums, which are often stored outside. The colour consistency is also a huge bonus with high-end, brand-conscious clients and regular repeat jobs.'
Mr Mann, 'The Labelfire delivers accurate colour matching and repeatability, whether that's across various labels in a range, different product labels for the same brand, or repeats of previous runs. We can have eight or more versions of a label in a job, so being able to easily achieve that consistency across the entire range is vital.'
With two Labelfire presses having been installed in Australia, PhilStic taking the first machine in New Zealand highlights a growing appetite for such technology in the region, as Dierk Wissmann explained.
Mr Wissmann, national sales manager for Heidelberg, cited versatility, productivity and quality of the Labelfire as being the main draws for the region's print businesses and their customers. 'As well as CMYK plus white, the machine can be ordered – as this one for PhilStic has been – with an extended colour gamut including green, orange and violet. That allows for a very high accurate coverage of the Pantone plus colour gamut.'