Grace Label details digital gains with Domino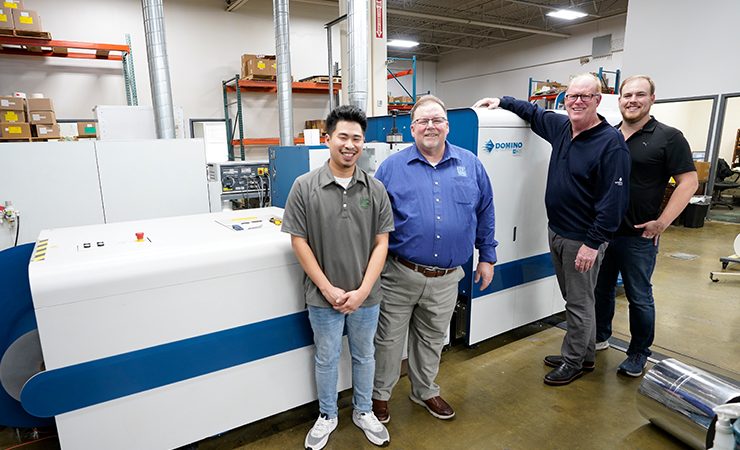 Pictured (from left): Alex Huynh, Lou Thurston, Steve Grace, Kyle Grace of Grace Label, in front of the company's Domino N610i UV inkjet digital label press
US converter Grace Label has seen year-on-year sales growth exceeding 15% since it introduced digital into its production mix with the installation of a Domino N610i UV inkjet digital press in 2019.
Located in Des Moines, Iowa, the business was founded in 1975 by Ned and Alice Grace, before being kept going by Alice and her four sons following Ned's unexpected passing a year later. One of those sons, Steve, returned to the business in 1999 after a successful career in law. Now president and CEO at Grace Label, Steve Grace has continued to grow and evolve the business into new markets with new technologies. One of these has been digital.
Now a full-service narrow web label and packaging converter, producing pressure-sensitive, roll-fed, and cut and stack labels, to shrink sleeves, pouches and flexible packaging, Grace Label viewed the addition of digital to its production mix as a necessity in order to allow it to better serve a growing order book of short-run work that was tying up its flexo press capacity. 
Lou Thurston, account executive at the company, explained, 'Our market focus is food and beverage, however, we also serve health care, automotive, personal care, household chemical, and other sectors. Our customers' expectations are common. They want quality products, on-time delivery, quick turns, and they want us to understand their needs and develop the product and service offering that is customised to their business. What's important for our customers and prospects to know is that we are growing, and we offer more products and services than ever before.  We treat our customers like family and always put their needs first.'
He continued, 'We knew we needed to get into the digital label business. We were doing a ton of short-run work that was tying up our flexo press capacity and with the cost of printing plates, it negatively impacted our competitiveness on acquiring new business.
Now, 'We are able to go after shorter runs,' explained Mr Thurston. 'We are also able to be more competitive on combo runs with many SKUs that don't require press stops, plate changes, etc.  The Domino N610i gives us the us the flexibility to grow with our customers and transition their business to flexo when the quantities make sense. The ability to match colour using the Domino has been a significant benefit as well.'
These benefits are summarised by Kyle Grace, another family member and manufacturing manager at Grace Label, who said, 'By having the Domino, we have decreased the small run load on our flexo presses and improved overall production efficiencies throughout our operations.'
Steve Grace cited the print quality off the Domino press as a major benefit for Grace Label, as well as the ease with which the press integrated with the company's existing flexo printing capacity. He commented, 'The Domino N610i UV inkjet digital label press best matched our flexo capabilities over dry toner and other digital offerings. The absence of click charges and other cost drivers was also quite appealing.
'As with any new piece of equipment there were some learning curves, but with the support from Domino and the capabilities we have with this press, our digital business has grown significantly. We have realised year-over-year sales growth exceeding 15%.  We have gained several new accounts, and it has allowed us to go after business we could not have acquired with just flexo.
'We have been very satisfied with Domino as our partner in our digital venture.'
Mr Thurston concluded, 'The addition of the Domino N610i press has extended our bandwidth in the markets we serve. It has helped us bring on new business quicker, as well as improve our response time to our customers. Domino has proven to be a great partner and the N610i has proven to be a perfect complement to our flexo production.'