Lithuanian printer takes first HP Indigo 8K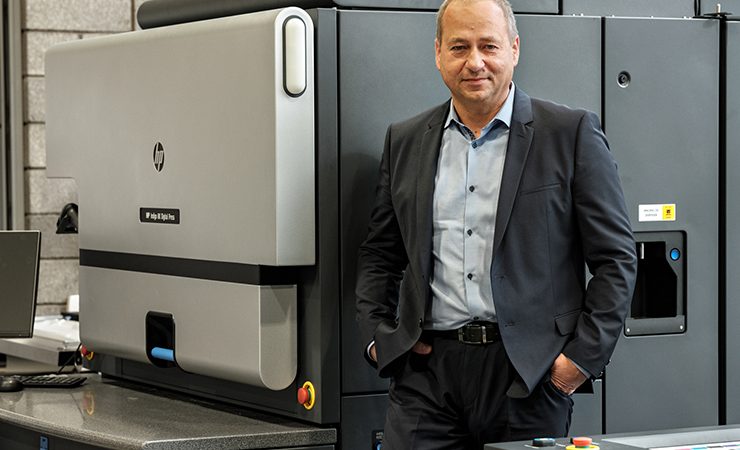 Aurika CEO Arūnas Akstinas with the world's first HP Indigo 8K
Lithuanian print house Aurika has updated its printing facilities by investing in the world's first HP Indigo 8K digital press.
Established in 1991 in Kaunas, Lithuania, Aurika is a major printing house in the Baltic region. The company produces labels and packaging, specialising in self-adhesive labels, sticky labels, wrap-around labels and flexible packaging, for a large customer base including the food and beverage and cosmetic industries.
As a longstanding customer of HP, Aurika was producing on average 5000 jobs per month with its existing HP Indigo 6800 digital press, and six narrow web flexo presses. However, Aurika recognised the need to expand its digital printing capabilities if it were to increase output and tap into trends and level-up the business. 
Through this latest investment, Aurika is acknowledging that digital printing has grown in prominence in the market. As such, the company decided to power its endeavours to enhance its label production after enjoying growth in the digital share of its manufacturing. 
Aurika CEO Arūnas Akstinas said, 'We anticipate that digital is going to be the future of printing, therefore and we chose to act upon this immediately. We have been listening to what our customers think and feel, and we found this matches with HP's values: high-quality printing, shorter print runs and a large selection of raw materials.
'With the new HP Indigo 8K digital press, labels can be personalised for competitive prices in a short time frame. Our team wanted to create a unique experience for our customers, and with the new HP Indigo 8K digital press, the possibilities are endless.'
The press has been designed with productivity in mind and has allowed Aurika to respond more quickly to changing demands. With the new press Aurika has also been able to address longer runs and colour critical jobs, opening up a whole new market for the company. Previously, it could only take on printing jobs of up 1500m in length; now Aurika can print orders between 3000-5000m long. With the help of PrintOS, Aurika has been able to measure press performance, which has been hugely beneficial when it comes to analysing business operations. 
The addition of HP SmartStream Designer software means that Aurika's smaller customers are not left behind, by allowing them to still create distinctive and unique labels in competition with their larger counterparts. The HP Indigo 8K is also equipped with Spot Master, HP Indigo's latest colour automation technology. Spot Master allows Aurika to meet increased demand for fast and accurate printing, which uses patented algorithms for fast and accurate colour matching, to ensure every piece of packaging is identical, regardless of when it was printed.