French printer installs second Mark Andy digital press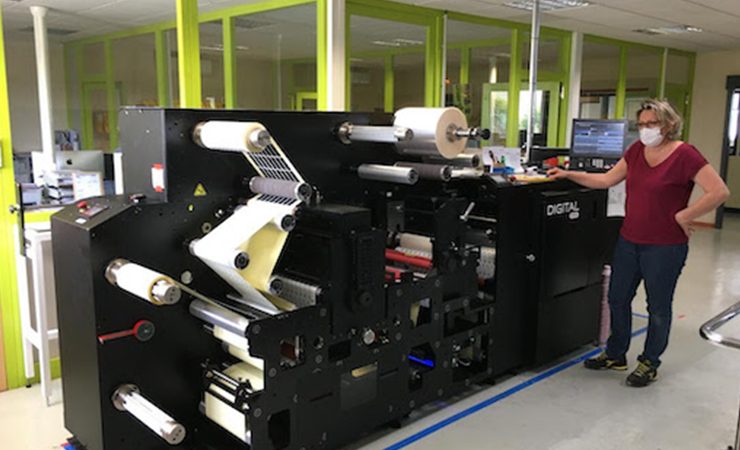 Press operator Véronique Chenaoui with Ballouhey's new Mark Andy Digital Pro 3 line at the company's plant in Saint Marcellin, France
French printer Ballouhey has installed a Mark Andy Digital Pro, furthering its digital print capacity and capability.
Established originally in 1908, Ballouhey is now under fifth-generation ownership and management. The company is renowned for serving the food packaging industry with printed labels, paper wraps and folding cartons. Traditionally a sheet-fed offset house with some digital capacity for sheeted work, which was first added in the early 21st Century, Ballouhey moved into web-fed digital printing when it invested in a Mark Andy Digital One press in 2018. This has now been added to with the Digital Pro press.
Fabien Ballouhey, the company's managing director, explained, 'The volume of work we were sub-contracting to digital printers was growing fast and we felt the time had come to bring it back in-house. The Mark Andy Digital One appealed to us because it was simple to operate and allowed us to print and finish in one pass.'
Digital Pro advances this, notably by increasing the print speed to 23.4m/min across a range of substrates from self-adhesive stock to films. Digital Pro is also scalable, allowing the company to update its specification to meet new demands. For example, the hybrid print station can be located before or after the digital engine, and in Ballouhey's case, the die-cutting unit is semi-rotary as opposed to fully rotary.
Mr Ballouhey said, 'The semi-rotary die station is much easier to use, gives better register, and has reduced make-ready times. We are already seeing a 30% saving and are aiming for 50%, which makes a significant difference on short-run jobs, especially combined with the faster production speed. Overall, we think the Digital Pro will be twice as productive as Digital One.'
Typical work for the Digital One at Ballouhey was 300-400m of substrate printed four-colour, and mostly with varnish to seal the surface for use as primary food packaging. With the Digital Pro, run lengths have increased to typically 3000-5000m, and now one in three of all jobs at the company is handled by the new press.
Since bringing the digital work back in-house Ballouhey has seen a 150% growth in demand, and this has reset the balance of work the company produces from 70:30 offset to digital to nearer 60:40, and digital is continuing to grow. Overall sales are showing a 20% increase year-on-year, and turnover of nearly €2m in 2021 is anticipated. Much of the growth has come from the investments the company has made in Mark Andy digital technology. Currently, most of the company's output is for French customers, but Ballouhey is looking to grow its export business to markets in Italy, Switzerland, Germany and the UK, although keeping to its speciality of food packaging.
Mr Ballouhey said, 'We have FSSC 22000, IFS and BRC accreditation for food compliance, and are very proud of our Imprim Vert certification that we achieved back in 2005. This is a commitment to environmental protection based on recycling, pollution prevention, and energy reduction.'