Digital print conference to tackle post-Covid challenges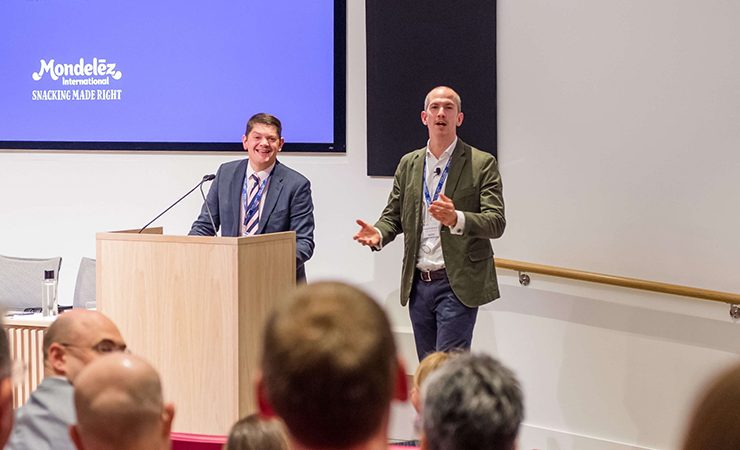 Conference chair David Pittman (left) and Alberto Kechler (right), then of Mondelez, at a recent edition of Digital Print for Brand Success
Digital Print for Brand Success returns later in 2021 to provide the digital print for packaging supply chain with the tools and knowledge to set itself up for super success in a post-pandemic world.
Taking place in London, UK on 18 November, 2021, the conference is a must-attend event for all those interested in and/or already using digital to the benefit of their packaging businesses and customers, as well as all those looking to take their digital printing understanding and capability to the next level.
With most Covid-related legal requirements and limitations soon to be lifted in England, and with other parts of the world also on the road to recovery after 18 months coming to terms with and combatting a worldwide health crisis, now is the time to firmly fix your sights on the path to long-term growth and prosperity.
The programme for this year's Digital Print for Brand Success 2021 conference has been tailored to provide insights and knowledge to help you do just that, from:
First-hand experience of life as a disruptor brand in the midst of a global pandemic;
Myriad technologies that will empower more brands to embrace digital in the future; 
Cutting-edge design for the next generation of packaging; and
The realities, complexities and value in embracing e-commerce.
Opening the conference is Mark Wright, he of BBC's The Apprentice fame and the man behind the most successful business built by a winner of that show, who will directly address how to rebuild your business for super success post Covid-19. Using his entrepreneurial spirit and experience, Mr Wright will get the conversations started at the Digital Print for Brand Success 2021 conference, and provide essential insights, knowledge and takeaways to help you on the road to success in a post-pandemic world.
Those to speak include representatives of Baker Labels/BakPac, Olympus Print Group, Amberley Labels, Fujifilm Integrated Inkjet Solutions, Inca Digital and Jackpot Peanut Butter, to name a few.
The event's sponsors include Durst, Fujifilm, Kurz, OKI and O&PM Europa. 
Visit the Digital Print for Brand Success 2021 conference website at www.digitalbrandconf.com for further information, to see the full programme, and to reserve your seat.
Digital Print for Brand Success 2021 takes place 18 November, 2021 at IET London: Savoy Place.
Watch highlights from the 2019 conference below: