Labelexpo reschedules further shows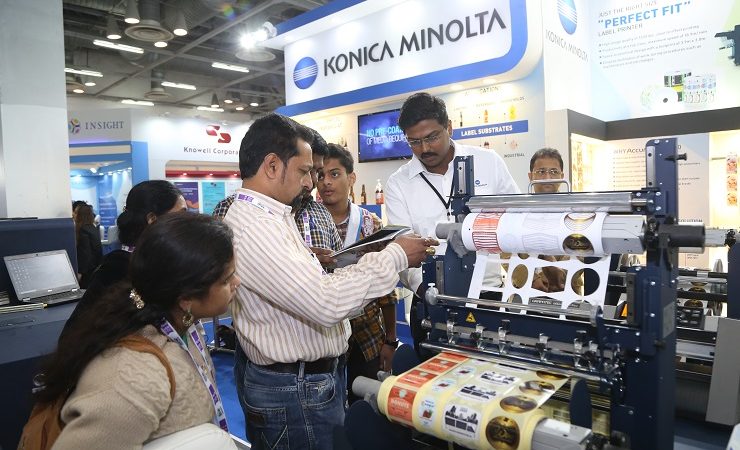 Konica Minolta was present at Labelexpo India 2018
Labelexpo Global Series has cancelled Labelexpo India 2021, with the event now to return to its pre-Covid schedule and take place 9-12 November, 2022. It has also rescheduled the next Labelexpo Southeast Asia.
The last edition of Labelexpo India in November 2018 attracted almost 10,000 visitors from 55 countries, with 250 Indian and global-based exhibitors. The next edition will now take place on 9-12 November, 2022, at Expo Centre & Mart in Greater Noida (Delhi NCR).
Labelexpo Global Series, part of Tarsus Group and the team behind the international series of Labelexpo expos and associated summits, has made the decision based on the continuing situation in India as a result of the Covid-19 crisis, and to allow time for the country's Covid-19 vaccination programme to roll out and, 'for the situation to normalise next year.'
Labelexpo India event director Pradeep Saroha commented, 'We have taken the decision not to run Labelexpo India 2021 due to the ongoing Covid-19 pandemic. Our expectation is that by rescheduling the show a year later, to 9-12 November, 2022, the pandemic will be under control with the industry ready and excited to network and do business again.'
Labelexpo Southeast Asia also last took place in 2018, which was actually the event's launch edition. Labelexpo Southeast Asia was then due to take place in 2020 in line with the overall two-year cycle of Labelexpo events. Due to Covid-19, that edition was cancelled with the next show dates set for 2022, but these are now moving to 9-11 February 2023. The exhibition remains located at BITEC, Bangkok.
Labelexpo Southeast Asia event manager Richard Quirk explained, 'Postponing the event will ensure that the show is as big and successful as possible. Labelexpo Europe now lands just two weeks before our originally scheduled Labelexpo Southeast Asia show next year, so we wanted to ensure the show was run at a time when we can maximise exhibitor numbers, visitor turnout and industry engagement.
'We know that February 2023 will be a time when the entire industry will be excited to come together. Exploring new markets is very important to all companies in the current climate, and with the current size and potential future growth of the Southeast Asian market we know that this event will be an important milestone for all involved.'