Canon confirms Rodden as ANZ distributor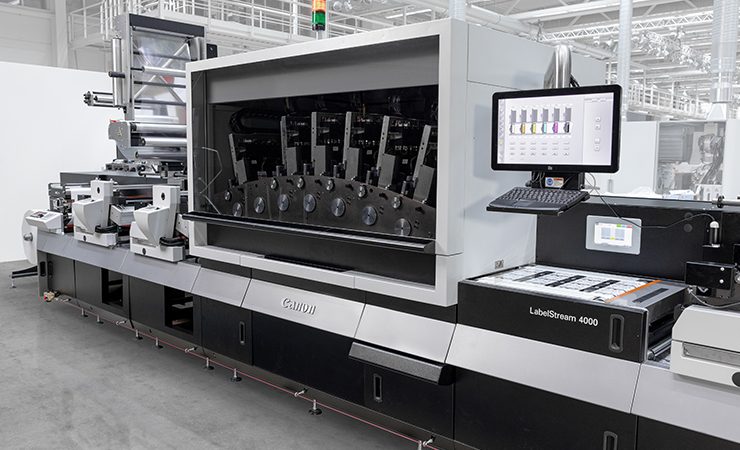 As of the beginning of May 2021, Rodden Graphics is promoting and distributing the Canon LabelStream 4000 Series in Australia and New Zealand press
Canon Production Printing has signed an agreement with Rodden Graphics to further the presence of the LabelStream 4000 Series UV inkjet press in Australia and New Zealand.
As of the beginning of May 2021, Rodden Graphics is promoting and distributing the press. Canon Production Printing Australia will continue to support the installation and servicing of LabelStream presses across Australia and New Zealand.
The agreement between Canon Production Printing and Rodden Graphics comes on the back of the identification of a 'significant requirement' in the region for digital label printing, driven by an increasing demand for manufacturing flexibility, on-demand production, high quality and reliable output. Further, through the arrangement Canon Production Printing is set to continue and solidify the expansion of its successful presence in Europe to the Oceania label printing market.
Craig Nethercott, managing director at Canon Production Printing Oceania, said, 'We're confident that we can assist label converters looking to extend profit streams via digital print solutions. To support this growth, the LabelStream 4000 series will be available in both its Core solution, providing the ideal introduction into the world of high-performance inkjet label printing, as well as hybrid configuration, enabling a complete inline production of high-quality, self-adhesive labels and a fully integrated, single-pass label conversion line.'
Walter Vogelsberger, vice president of digital packaging print at Canon Production Printing, added, 'With its strong channel presence and established relationships, Rodden Graphics is a trusted partner for its many customers and will be able to increase the value it adds by offering the Canon Production Printing solutions to the Oceania label market.'
Rodden Graphics director James Rodden commented, 'We are pleased to partner with Canon and support its distribution for the Oceania market. We are confident that our network will play a key role in growing the presence of the LabelStream 4000 series and in introducing its product portfolio to an increasing customer base in our region.'
Mr Vogelsberger added, 'Australia is an important market in terms of growth opportunities and the cooperation with Rodden Graphics is a perfect fit to provide customers with access to Canon's cutting-edge technology supported by our excellent service network.'