Epson adds to PrecisionCore range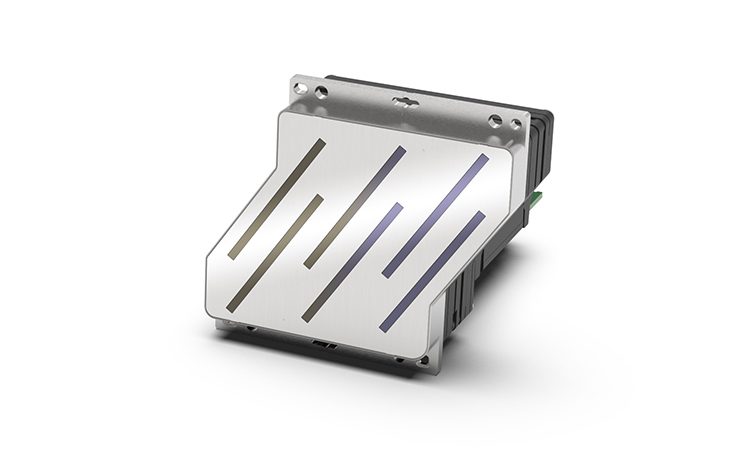 D3000-A1R is the first Epson PrecisionCore printhead to support ink circulation at the nozzle level
Epson has expanded its line-up of PrecisionCore printheads in response to an accelerated shift in the commercial and industrial sectors to digital printing.
Three new printheads have been developed, including D3000-A1R as the first PrecisionCore product to support ink circulation at the nozzle level. Ink is circulated at the nozzle level to prevent potential issues caused by the evaporation of moisture near the nozzles. Circulation also facilitates stable printing and increases the degree of freedom in the engineering of devices and ink, according to the company. Unlike printheads in the existing PrecisionCore S series, D3000-A1R printheads do not require regular ink ejection and head cleaning.
Offering a maximum 1200dpi (one colour) resolution and high-frequency driving, these printheads enable digital printers to deliver image quality and print speeds comparable to those of existing analogue printers, it is claimed. In multi-head arrays, there is no need to adjust the position of heads, so reducing the amount of time it takes to assemble and replace the heads.
Also new is the S3200-A3 printhead. This uses the same 24kHz frequency as the existing S3200-A1 yet produces droplets that are 1.4 times larger. It can deliver high print quality at high speeds even when the distance between the head and media is large, such as when printing on textiles and cardboard. With an easily scalable S-shaped design and a robust structure, the S3200-A3 supports a wide range of needs and applications.
Third and finally, I3200(8)-A1HD features up to 1200 nozzles per inch (when using two colours), and offers a higher nozzle resolution than the existing I3200(4)-A1. This enables it to print high-definition images in a compact size without sacrificing the characteristic usability of the series. With the option to run two up to eight colours, this printhead is suitable for both high-speed, single-pass printing as well as multi-pass printing.
All three run water-based inks. With these new models, the bolstered line-up of PrecisionCore printheads runs to five, expanding the potential applications in digital printing. Moreover, Epson noted how a technology that produces less waste and offers a reduced environmental impact has accelerated a shift in the commercial and industrial sectors to digital printing. The three new products will also facilitate distributed printing, allowing items to be produced locally, and on-demand printing, meaning that printers only produce what they need, when they need it.
Epson stated, 'The demand for digital printing with water-based ink has risen in recent years due to a desire to mitigate the environmental impact of printing. Epson will continue to develop original technology to contribute to the expansion of low environmental impact digital printing and further accelerate inkjet innovation.'