GLBC invests in HP Indigo 35K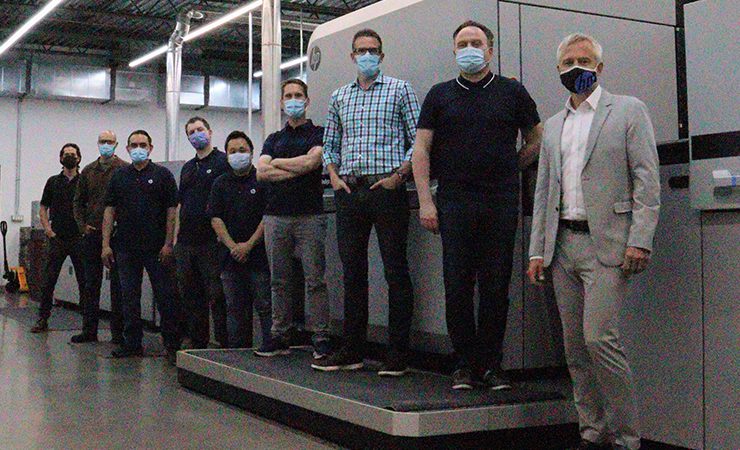 The HP Indigo 35K is the third HP digital press acquisition by GLBC in the past five years
Canada's Great Little Box Company (GLBC) has invested in a new HP Indigo 35K digital press, expanding its folding carton production capacity and offering customers a faster turnaround time and expanded application options.
The first commercially released HP Indigo 35K, the new press is operating at the Great Little Box Company & Ideon Packaging site in Richmond, British Columbia, opening up new production opportunities at the company, where half its folding carton runs are below 5000 sheets. Ideon Packaging is a folding carton specialist acquired by GLBC last year.
The HP Indigo 35K is the third HP digital press acquisition by GLBC in the past five years, as the company builds on experience gained with an HP Indigo 6800 label press and HP Scitex 15000 for corrugated boxes and displays. GLBC has set up the HP Indigo 35K press production line with a new Tresu iCoat II. The use of the new Spot Master colour matching technology is also set to be a key capability to enable GLBC to migrate from offset to digital to ensure customers have an offset-matching product.
GLBC president Brad Tindall said, 'We are continually investing in new technologies to bring the latest and greatest to our customers. Instead of investing in another offset press, we made a strategic decision to add capacity with HP Indigo digital. The Indigo solution will deliver production flexibility with offset matching quality – plus the bonus of digitally printing exact proofs for customers to sign off orders.'
This installation follows an HP Indigo 35K going in at the CCL Label Healthcare facility in Montreal, Canada. This was the world's first 35K install, and CCL's 100thHP press.
GLBC will use its new HP Indigo 35K to support the packaging market in Western Canada and Washington State with high-quality, folding cartons, including customers in the frozen foods, snacks, beer and beverages, cosmetics, and nutraceutical markets. Some of GLBC's customers have 100s of SKUs and GLBC plays a role in inventory management, commented Mr Tindall.
'We are running at full capacity and the HP Indigo 35K will allow us to bring work back in-house by migrating short-run folding carton work off of our 40in offset presses to digital, while becoming more efficient and cost-effective with digital by saving on tooling and significantly reduced make ready times and setup waste.'
Read more about developments in toner digital printing in the May/June 2021 issue of Digital Labels & Packaging; register here to receive the magazine, for free